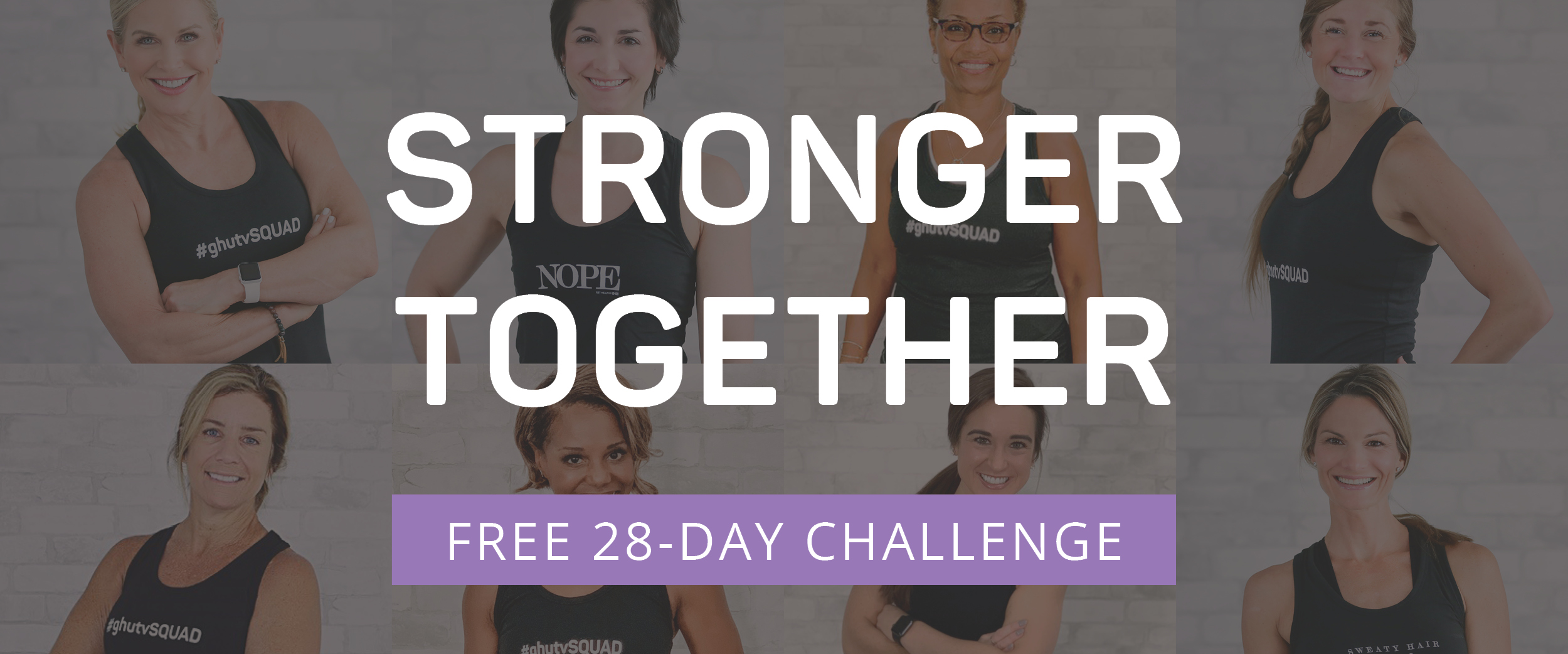 Welcome to our 28-Day Stronger Together Challenge – brought to you by your favorite GHUTV trainers! The best part? It only takes 10 minutes a day! Plus, our trainers are here to give you advice each week and share a variety of their favorite meal prep plans, songs to workout to, and so much more! Whether you have 10 minutes to dedicate to yourself today OR you're going to add these 10 minute workouts onto a longer routine, we hope that you find a variety of workouts you enjoy from ALL of our trainers.

Let's Talk about Meal Prep
So if you're a meal prep beginner or are just looking for some new tips, check out these helpful articles: 8 Time Saving Meal Prep Tips For Beginners, Master Lunch Time Meal Prep, and 15 Shredded Chicken Recipes You'll Love!
Read what three things our trainers meal prep most often below!

Let's Talk about Recovery
Everybody needs to take a rest day, but sometimes that's easier said than done! Recovery can mean many different things, and we've got tips for all aspects! Check out these articles to get started: 7 Proven Ways to Relieve Sore Muscles & Speed Up Recovery, 4 Amazing Back Stretches to Relieve Pain and Tension, 7 Exercises To Relieve Tight Hips, and 6 Foam Roller Moves To Loosen Tight Muscles!
Read our trainer's three tips for recovery below!

Let's Talk about Snacks
Nutrition and fitness go hand in hand. It's important that you fuel your body with nutritious foods before AND after your workout. Check out this week's helpful articles on post workout fuel: 11 Post-Workout Meal Ideas: What to Eat After Exercise, Recipe: No-Bake Peanut Butter Energy Bites, and Recipe: Omelette in a Mug!
Read our trainers' top three favorite post workout snacks!

Let's Talk about Motivation
Have you ever noticed your workouts go by faster if you're listening to certain music? Do you have days where you feel so ready to workout and others when it seems so hard to get started? Well then let's GET PUMPED UP! Check out this week's helpful articles on pump up music: 7 Ways to Make your Workout Fly By, One Song Workout, and My 15 Favorite Songs of The Year!
Read our trainer's top three favorite pump up songs below!

---
Need a new challenge? Check out all of our other challenges here. Or if you like the idea of focusing on one small thing each day, check out my 101 Fitness Tips that can lead to awesome results and lasting change!
Thanks so much for participating in this challenge with me. I do hope you feel proud of yourself; I know I do!
Until next time, –Chris Freytag