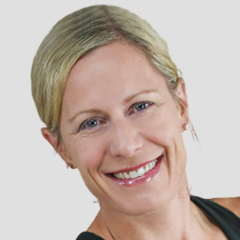 10 Minute Pilates Yoga Fusion
Jodi Sussner
Ready for a quick workout unlike any other? It's time to try Pilates yoga fusion, led by trainer Jodi Sussner. In just ten minutes you'll flow through Yoga and Pilates moves that will work your core, burn some calories, and give you a nice stretch at the same time. Even if you just have ten minutes to work out, this quick routine is worth your time: it will get your heart pumping and calories burning in no time as you flow through each invigorating movement. You'll start this Pilates yoga fusion with a quick warm-up before heading into a few yoga movements like downward dog, chair pose, and more.

You'll flow through a series of stretching and stabilizing movements to wake up those muscles and energize your body. Jodi will lead you through lunges, planks, and tricep push-ups, as well as slow and controlled core work that will leave your abs and obliques burning. You'll perform tiny pulses and isometric holds within traditional yoga poses like bridge pose or plank, that help build muscles and will leave you sweating. By combining the concentration on stabilization and strength of Pilates and the flowing movement of Yoga, you get a truly unique workout.
Throughout the workout, Jodi will encourage you to do the best you can, providing a positive attitude and plenty of motivation.This workout is a great way to start or end your day, reminding you that moving your body can improve not only your body but your mood as well! If you liked this Pilates yoga fusion workout, you'll also love our Pilates inspired core workout! Pilates is a great way to strengthen and lengthen your muscles, helping you sculpt the body you've always wanted. You can also try our yoga flowetry program, designed to help you flow through strengthening and calorie-burning yoga poses while calming your mind at the same time.
5

Responses to "10 Minute Pilates Yoga Fusion"
Reply
Explore videos by Jodi Sussner