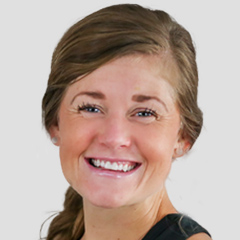 GOLD Beginner Kettlebell
Lindsey Bomgren
Join us for the next Get Healthy U TV workout, exclusive to those with GOLD membership. Whether you're a kettlebell pro or never used one before, you can do this workout! The kettlebell is a great piece of equipment for strength, power, and raising your heart rate in a low impact way. Follow along with Lindsey as we implement foundational kettlebell exercises — from the kettlebell swing, goblet squat, row and more. This 30-minute kettlebell workout will increase strength and power, while raising your heart rate and burning calories. Depending on your level, a 4-15 lb. kettlebell is recommended. If you don't have a kettlebell you can always substitute a dumbbell.
Level: Beginner
Equipment: Mat, kettlebell (or substitute with one dumbbell)
Instructor: Lindsey Bomgren
In order to view the Live Class, be sure to visit this page while logged in to your GOLD member account. Want to stream this workout to your TV? Here is how to do it.
THIS EVENT IS ONLY AVAILABLE FOR GHUTV GOLD MEMBERS

Popular Live Class videos
Explore videos by Lindsey Bomgren