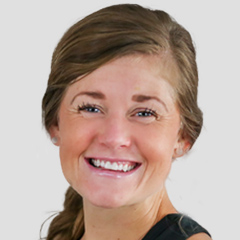 10-Minute Legs and Glutes Workout 2
Lindsey Bomgren
If you liked our first 10-Minute Legs and Glutes workout, you'll LOVE this follow up video too. In fact, you'll love this even if you didn't see the first one! Anyone who is looking for great legs and gorgeous glutes should check this out! This video maximizes your time to get you an efficient and effective leg and glute workout in just 10-minutes making this a time saver. Most of us don't have any extra time in the day so finding time to work out just doesn't happen. On the other hand, anyone can slide 10-minutes in before work, during lunch, or right when you get home.
In this amazing 10-minute leg and glute workout, trainer Lindsey Bomgren takes you through 3 leg circuits that are going to tone and shape your entire lower body. Each lower body circuit consists 3 different moves meant to make those buns burn! These circuits are designed in "superset" fashion where all three exercises work the same muscles and there is no rest in between. Supersets are super effective! You'll definitely "feel the burn" on this one. Toning your legs and glutes has never been so fun and so effective all in 10 minutes.

Too often you and I fall under the false notion that in order to improve our bodies we need to spend hours in the gym with complicated workouts or big barbells with trainers by our side. Nothing could be farther from the truth. During this leg and glute workout you will use specifically designed supersets that tackle your lower body muscles using weights or bodyweight if you choose. So grab some weights and a bottle of water and join us for this leg and glute workout! And for more 10-minute workouts make sure you check out our entire GHU TV library!
One

Response to "10-Minute Legs and Glutes Workout 2"
Popular Free 10-Minute Workouts videos
Explore videos by Lindsey Bomgren