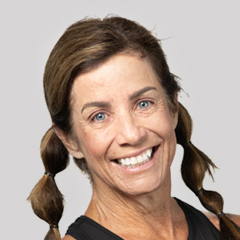 Barre Burn
Shelly Hawkins
Welcome to Barre Burn where your inner dancer is about to be released! Whether you've been dancing your whole life or never even tried a plié, you are going to fall in love with this completely unique kind of fitness. Easy? No way! But a totally fun and totally different way to sweat and burn calories as well as get strong. Best of all, the entire workout is low impact so no jumping or pounding on your body involved. This is a smooth, steady subtle way to tone up and slim down!
Join Shelley Hawkins as she shows you how to strengthen and lengthen with dance-style movements that are easy to follow but not easy to do! Chris Freytag and Sam Cam work alongside you as well to add some fun and show you some options for modifying moves.
Barre Burn uses light weights and combines small movements with high repetition for the burn you need to feel that change you want. In our Barre Burn class you are going to work everything! You'll start standing and work on plié, releve' and other leg exercises to tone and tighten your lower half. With the small weights in your hands you're soon adding shoulders, arms, chest and back exercises that sneak up on you fast!
Next you'll hit the floor, but don't be fooled. The bridge work and leg lifts will remind you where your thighs are. The downward dogs and push-ups will remind you to sculpt those beautiful arms. And, of course, there is a TON of core work from the beginning to the end!
So grab a pair of 1 pound, 2 pound or perhaps 3 to 5 pound dumbbells and join us for the Barre Burn. No weights? No need. Bodyweight will do the trick! Just move and enjoy!
Level: All Levels
Equipment: Light Dumbbells, Towel, Mat
Instructor: Shelley Hawkins
Popular All Videos videos
Explore videos by Shelly Hawkins