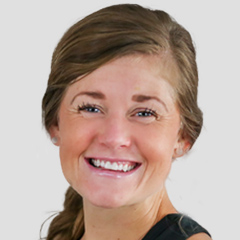 Bodyweight Burnout 2
Lindsey Bomgren
If you made it through Bodyweight Burnout I, get ready for Bodyweight Burnout II! This at home bodyweight workout is 20 minutes of total body conditioning utilizing just your bodyweight. You'll perform each move for 40 seconds at high intensity, before allowing your heart rate to come down in a 20 second break. Lindsey will provide plenty of instruction and modification along the way, and all you'll need to get started is a mat or carpeted surface.

You'll start this at home bodyweight workout with a quick warm up of dynamic movements like squats and jumping jacks to get you warmed up and prepared for movement. Your first exercise begins in high plank, before coming into a "push-up to pop up squat" for your second move. Next, you'll perform spiderman jumps. Plyometric moves like these get your heart pumping and help you burn calories faster while still building strength. After this plyometric move, you'll perform a yoga-inspired move that requires core stability and balance to define your core and lower body. Next, it's onto squat jumps for more plyometric work!
You'll repeat this sequence again before moving into the second sequence in this at home bodyweight workout. The second half consists of moves like reverse crab kick, tricep push-ups to crescent lunge, alternating lunges, squats, and squat hops. Lindsey will help you determine which modifications, if any, you should make throughout the workout so you can get the most out of the workout for your fitness level. If you're looking for an amazing bodyweight workout that will tone you head to toe, Bodyweight Burnout II is the workout for you.
All exercises you perform are your own responsibility and you perform them at your own risk. Always seek the advice of a physician or other qualified health provider before starting any physical exercise, fitness or wellness regiments of any kind.
Level: All Levels
Equipment: Bodyweight, Mat
Instructor: Lindsey Bomgrem
Popular All Videos videos
Explore videos by Lindsey Bomgren