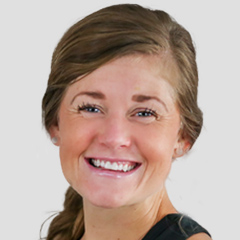 Move Strength and Power Lower Body
Lindsey Bomgren
Are you ready for a lower body HIIT workout that will completely transform your glutes, legs and thighs? This 20 minute workout combines 40 second strength intervals with 20 seconds of powerful plyometrics to burn out those legs, build overall strength, and tone your entire lower body. All you'll need are a set of optional dumbbells and your own bodyweight.
Lindsey will start you off with a quick warm-up using moves like squats, hamstring curls, and jumping jacks to get the heart pumping and prepare you to move. The first move in this lower body HIIT workout is squats with weights. You'll perform this move for 40 seconds, and Lindsey will instruct you to keep your chest lifted and your weight in your heels. Then it's on to your plyometric work: chair jumps. Plyometrics get your heart pumping to burn more calories while still helping to build muscle. Along with providing precise instruction on each move and what to be doing with each muscle, Lindsey also offers tons of encouragement and modification for all fitness levels in this lower body HIIT workout.
Your second move is a front lunge, adding on 20 seconds of plyometric work with split jumps. Next, it's onto sumo squats and squat jacks, followed by curtsy lunges and power lunges for your plyometric. Then, saving the best for last in this lower body HIIT workout, you'll do 40 seconds of dead lifts followed by 20 seconds of single-leg burpees.
After the series is done, you'll go back to the start and repeat the entire sequence, starting again with squats. In just 20 minutes, you'll burn calories, build strength, and feel empowered knowing that you got an amazing lower body HIIT workout in a short amount of time. So if you're looking for a quick and effective lower body workout to firm up those buns and legs, this routine is the one for you.
All exercises you perform are your own responsibility and you perform them at your own risk. Always seek the advice of a physician or other qualified health provider before starting any physical exercise, fitness or wellness regiments of any kind.
Level: All Levels
Equipment: Medium Dumbbells, Mat
Instructor: Lindsey Bomgrem
Popular All Videos videos
Explore videos by Lindsey Bomgren