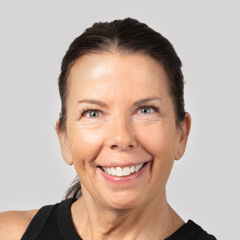 Yoga Sculpt Premium 2
Patty Knudsen
We love our yoga sculpt series. These workouts are spicy and incorporate it all: strength, balance, flexibility, and a little cardio. And Yoga Sculpt Premium 2, led by our sculpting queen, Patty Knusden, is a fun one!
This class is the perfect blend of yoga, muscle sculpting, and cardio all rolled into one awesome 30-minute session. Join GHUTV trainer Patty Knudsen as she moves you through the class, teaching you to use your breath and encouraging you to work at a level that feels right for you.
Tara joins Patty in the movements and Shannon shows a few modifications so that no matter how your body is feeling, you have options. Love the yoga but new to the sculpting? That works! Leave the weights out of the picture and just move through the sequences with bodyweight alone! Never done yoga before but want to try? Patty has a non-intimidating way of teaching you each pose and strength move, and she encourages you to try it.
This yoga sculpt workout is like a big bell curve, both starting and ending with some breathing and flowing yoga poses. But in between, look out! Using small weights—think 3, 5, or 8 pounds—you will move, sweat, and pulse with the whole gang. After your first four minutes of yoga, you'll begin to build the heat. You'll be squatting, pulsing, and lifting while incorporating planks and lunges. There will be a few downward-dog flows in between to give you a chance to breathe.
By the time you are done with this workout, you'll be proud of the work you completed. Yoga sculpt is a favorite format, combining traditional yoga poses and strength training with dumbbells. This workout will leave you feeling stronger, refreshed, and renewed. If you want a little longer version of this format, try the 45-minute Yoga Sculpt Premium 1 workout!
Level: All Levels
Equipment: Light dumbbells, mat
Instructor: Patty Knudsen
Popular Yoga/Flexibility videos
Explore videos by Patty Knudsen