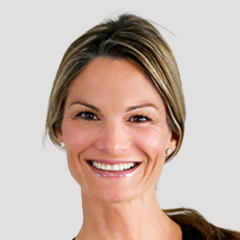 10-Minute Stability Ball Abs with Intervals
Kate Laing
Welcome to our 10-Minute Stability Ball Abs with Intervals workout. This workout will target your core muscles to help you strengthen your midsection and banish belly fat using interval style segments. If you've been looking for a new way to flatten your tummy and finally gets some results for a stronger core, there is no better way than the slow, controlled movements done here using the ultimate ab machine: the stability ball!

Stability ball abs are truly the best way to strengthen your entire core, which includes your lower back, and help you stay tighter in the middle. This workout adds the bonus of intervals created to take the workout up a notch and boost your metabolism as well as your heart rate. You'll burn more calories using this format which means a flatter tummy for you. You see a flat belly doesn't come from ab work alone. The ab work strengthens the muscle beneath the skin. However, most of the time there is also a layer of fat covering the six-pack you are trying to find. So proper eating and using cardio to burn extra fat and calories is equally important.
Keep in mind that core work isn't just about how you look. With the extremely high number of people experiencing back pain, it is crucial that you strengthen your core. Stability ball abs gives you an added challenging of working on an unstable surface. The ball forces you to pull in tighter with every muscle to help keep your place on the ball. But don't worry—trainer Chris Freytag is going to guide you through every step, giving you all the tips needed including how to work at a slow, controlled pace in order to achieve the best results. You are going to love this workout and you will definitely feel it in your abs the next day!
Looking for more core workouts? Check out our Ultimate Abs workout calendar.
3

Responses to "10-Minute Stability Ball Abs with Intervals"
Reply

Reply
Popular All Videos videos
Explore videos by Kate Laing