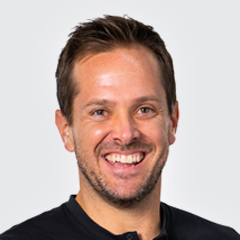 10-Minute Yoga Flow
JC Lippold
Sometimes just 10 minutes can change your entire day. This 10-minute Yoga Flow might be just that powerful! In the midst of our crazy, busy lives, it can be difficult to find any time for just a moment of sanity, let alone time to move our bodies. But let's be honest—if we are willing to spend 10 minutes scanning social media on our phones, we can also take just 10 minutes to move and breathe and find that it is time well spent!
This 10-minute yoga flow can be done anytime, anywhere, giving you just enough movement to feel good, stretch, and take some breaths—but not so much that you end up sweaty and needing a shower and change of clothes. You'll easily transition back into your day, making this the perfect thing to do when you get up, during lunch break at work, or right before dinner in the evening.

In this free 10-minute yoga flow, you'll receive a basic yoga flow guided by the amazing JC Lippold, who will remind you that when you listen to your body's intuition, it will guide you to do something that feels good. Mountain pose, forward fold, downward dog… if you know yoga, this 10-minute yoga flow is already part of your body language. If you are new to yoga, you'll easily follow along with JC's guidance and are likely to become a fan of yoga forever!
This flow takes you through a few sun salutations that are simple enough to follow, yet vibrant enough to energize and relax you all at the same time. The intention of the sun salutation is to link your breath to your movement. Before you know it, you're calmer and more centered, and your body is thanking you! Join us for the best 10 minutes of your day!
One

Response to "10-Minute Yoga Flow"
Popular Yoga/Flexibility videos
Explore videos by JC Lippold