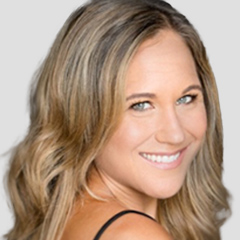 Yoga Stretch and Relax
Jennifer Galardi
Yoga Stretch and Relax is a 20-minute yoga stretch video that uses slow stretching movements to help your muscles release after a workout or stretch your body after a long day. Through hip and chest openers, back stretches, and twisting postures, you'll give your entire body the calming stretch it needs. Throughout each pose in this yoga stretch video, Jennifer will remind you to slow down but stay connected to your breath, lengthening each inhale and exhale and uniting it with your movement.
Gentle poses like Cat/Cows help to stretch out your spine while heart-openers like Camel pose help to stretch out your chest and legs. Moves like Staff pose will give your hamstrings and back a nice, long stretch, while twisting poses help to stretch out the side body and circulate fresh blood throughout your body, giving it a natural detox. You'll also perform hip openers in this yoga stretch video, which will help you release tension held in the lower body through your hips, thighs, and glutes. Gentle inversions will get your blood flowing and connect your body and mind. Jennifer will remind you to engage your core and modify each pose as needed to meet your fitness level.
This is the perfect 20-minute yoga stretch video to perform after you've completed the main yoga flow video in our uplifting Yoga Flowetry program, or to use as a standalone yoga practice to unwind after a long day. Whatever you're using this practice for, it will both stretch your body and calm your mind by reconnecting you with your own breath in gentle movement. You can also use this yoga flow video as a nighttime yoga practice, giving your entire body a 20-minute session devoted to stretching and calming your body for sleep.
All exercises you perform are your own responsibility and you perform them at your own risk. Always seek the advice of a physician or other qualified health provider before starting any physical exercise, fitness or wellness regiments of any kind.
Popular All Videos videos
Explore videos by Jennifer Galardi