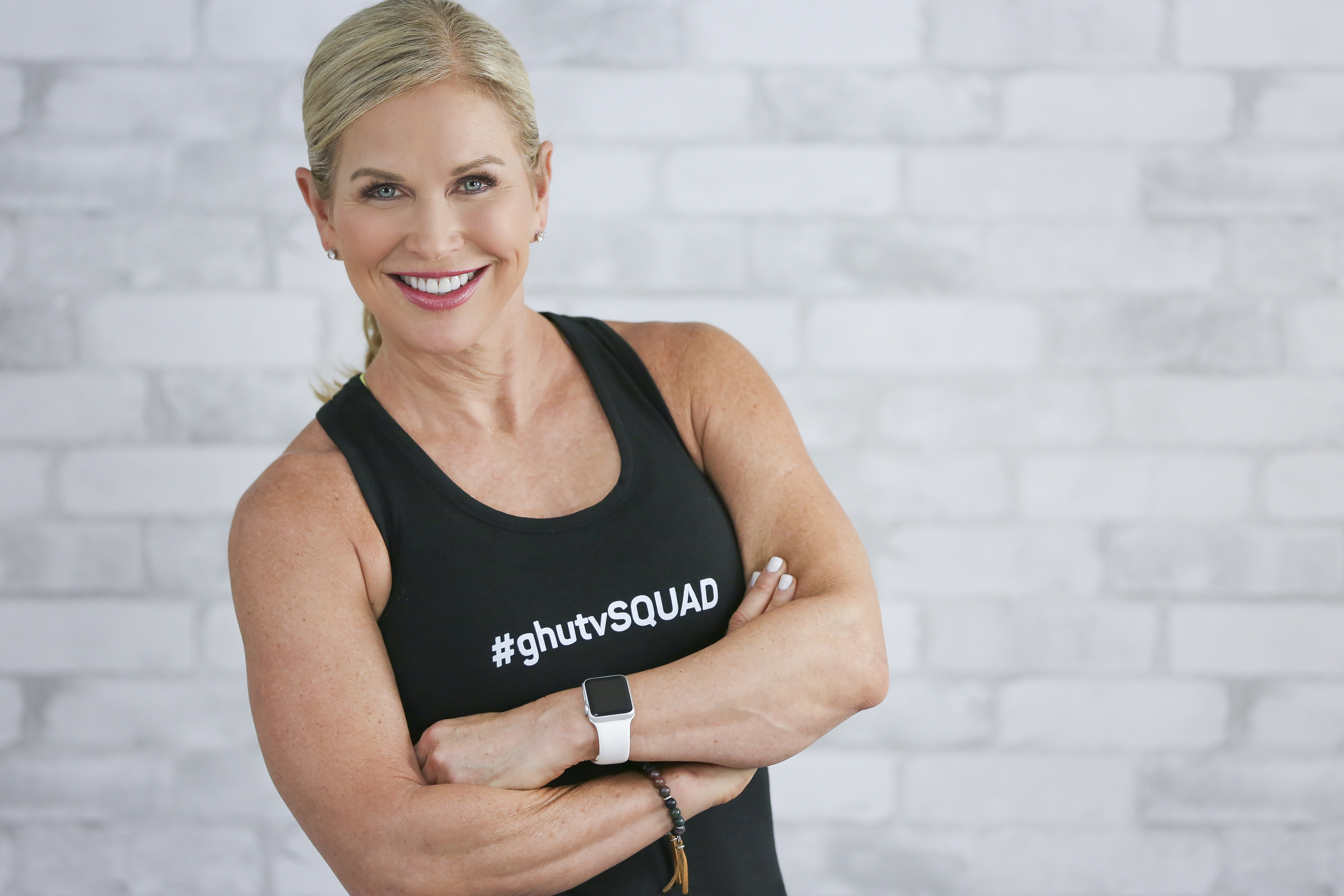 Chris Freytag is a certified Personal Trainer, Group Fitness instructor, and Health Coach. She is also Pilates and Yoga trained. Chris has been teaching, training, writing books, and creating DVDs for the past 25 years.
Her high energy and approachable personality have helped build her reputation as a nationally known fitness expert among the viewers who watch her weekly TV segments, to the members who jam pack her classes, and to her clients, readers, and fans. She founded Get Healthy U and Get Healthy U TV to make fitness accessible and affordable for everyone and to help people take charge of their health.
Chris lives in Minneapolis, Minnesota, with her husband where they raised their three now-grown kids.
Work out with Chris:
Walk & Tone
Rock Your Body Bootcamp
Power 20
Move to Lose
HIIT
Definitions
Bodyweight Fusion
Indoor Power Walking
GOLD LIVE Class: Walking Shape Resistance Band
GOLD LIVE Class: Buff Body Yoga with Weights 1
GOLD LIVE Class: Triple Threat 1
GOLD LIVE Class: Triple Threat 3
GOLD LIVE Class: Low Impact Fusion
GOLD LIVE Class: Body Weight Max
GOLD LIVE Class: Vinyasa Flow Yoga 1
GOLD LIVE Class: Vinyasa Flow Yoga 3
GOLD LIVE Class: Medicine Ball Circuits
GOLD LIVE Class: Mat Pilates
GOLD LIVE Class: Walk and Sculpt 1
GOLD LIVE Class: HIIT
GOLD LIVE Class: Kickboxing HIIT
GOLD LIVE Class: Cardio Kickboxing 1
GOLD LIVE Class: Cardio Kickboxing 2
GOLD LIVE Class: Cardio Kickboxing 3
GOLD LIVE Class: CRT (Cardio Resistance Training)
GOLD LIVE Class: Low Impact AMRAPS
GOLD LIVE Class: Cardio Step 1
GOLD LIVE Class: Cardio Step 2
GOLD LIVE Class: Cardio Step 3
GOLD LIVE Class: Pyramid Power Plus
GOLD LIVE Class: Step Strength 2
GOLD LIVE Class: Step Strength 3
GOLD LIVE Class: Kettlebell Circuits
GOLD LIVE Class: Flow & Yin
GOLD LIVE Class: Flow & Yin Yoga 2
GOLD LIVE Class: Cardio + Core Burner
GOLD LIVE Class: Cardio + Core Burner 2
GOLD LIVE Class: Pilates Yoga Mixer
GOLD LIVE Class: Kickboxing Strength 1
GOLD LIVE Class: Step HIIT 1
GOLD LIVE Class: Beginner GOLD Interval Walking 1
GOLD LIVE Class: Beginner GOLD Interval Walking 2
GOLD LIVE Class: Strength Training Split (Day 1) – Chest, Shoulders, Tricep
GOLD LIVE Class: Strength Training Split (Day 2) – Back and Biceps
GOLD LIVE Class: Game of 21 Version 2
GOLD LIVE Class: Pyramid Power Plus 4