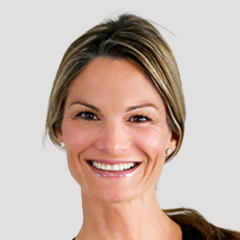 10-Minute TRX Ab Workout
Kate Laing
Ready for a totally unique way to strengthen your abs and tone up your belly? It's time to dive into our TRX ab workout. In just 10 minutes you'll get a stronger core and healthier spine by using the TRX straps and engaging all the muscles in your mid-section. The pilates-based moves in this workout are tried-and-true even without the straps. But in this workout you add the TRX and these moves become even better and more effective. TRX stands for "total body resistance". This means that you never isolate just one muscle in an exercise. With each move your whole body experiences the work and gives you a more effective overall result.


Join trainer Kate Laing as she guides you through each position showing you proper form and letting you know how to make any move a little easier or a little harder based on your own needs. This TRX ab workout is for all levels. All you need is a TRX-style strap with door attachment and a mat. Why spend tons of time in the gym or on the floor trying to flatten your belly when in just 10 minutes you will tone your midsection as well as all the muscles surrounding it. By now you know that core conditioning is essential for your overall fitness and general health. A strong core means a healthy back and a stronger person!
In this TRX ab workout you'll start with a gentle warm-up to prepare your spine and get the body ready to work. Then you'll use the straps and go through things like ab curls, full body roll-ups and seated twist all using the TRX straps for extra resistance. This is one of those workouts you're going to feel the next day! This video is a great compliment to our 10-Minute Pilates Abs. Use them both!
Popular All Videos videos
Explore videos by Kate Laing