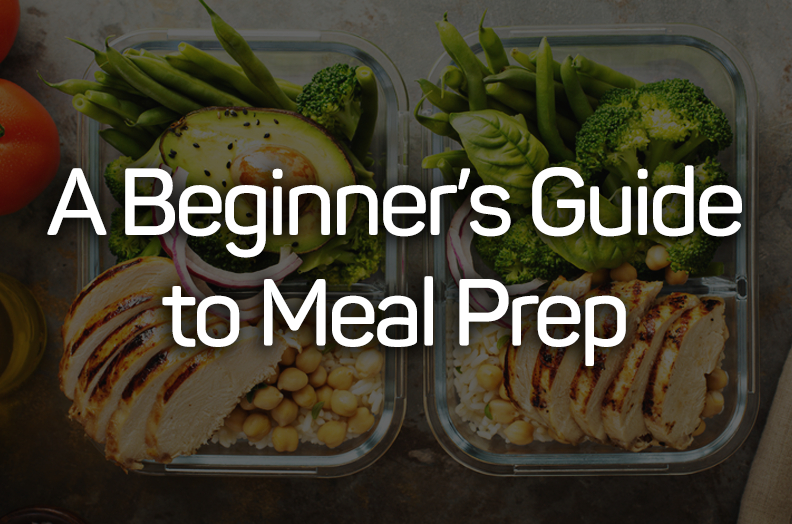 If you've been interested in healthy living for any length of time, you've likely heard the term meal prep. In fact, it's one of the hottest trends in food today. But whether or not you've actually tried it yourself is another matter. Some people swear by meal prepping for a healthy lifestyle, while many others just haven't had the chance to give it a try. In this meal prep guide, we'll cover various reasons to meal prep, how long your food will last, and some of our favorite meal prep recipes and ideas to make you pro in no time.
Why Meal Prep?
Meal prepping is a great way to save time during the week. By putting in an hour or two on the weekend, you'll be able to prepare some or even all of a recipe you'll need during the week. There are a couple different approaches to meal prep:

1. The Prep Once/Eat All Week Method
This may be the more common method people think of when they hear about meal prep. This involves bulk cooking or preparing food that you'll eat every day throughout the week. This could mean making 4-5 chicken breasts, several cups of rice, and a bunch of broccoli that you can eat for lunches and/or dinner throughout the week. It's typically focused on one single recipe that you make a large batch of or just a protein/grain/veggie combination that requires no recipe at all. The goal with this method is to be able to cook everything on Sunday and then really not have to do anything the rest of the week. It is also good for people who are heavily focused on weight loss and calorie counting since you typically consume the same number of calories each day from the same foods.
2. The Prep Some/Change It Up Method
For those of us who get sick of eating the same thing day after day, another approach is to meal prep portions of recipes that you'll make during the week to save you time on weekdays. For instance, you might make a batch of ground beef for tacos on Tuesday night but put everything together right before the meal. Or you could chop up all the veggies that you're going to need on Wednesday for a soup you plan to make. Making or preparing various ingredients you'll use throughout the week can speed up the process of making a meal while still allowing you some variation.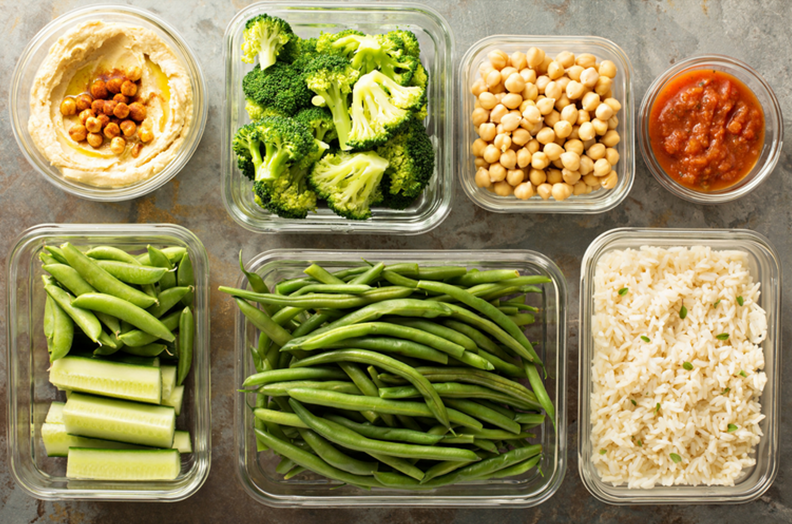 There's also some room to combine both of these methods. For instance, we often make a breakfast recipe that can last all week (ex. oatmeal bake) and a snack that we can eat each day (ex. homemade trail mix) but then vary our lunch and dinner options and prep a few ingredients for those recipes ahead. We've found this to be a nice solution to varying your meals while also having some options prepped completely.
Pro Tip: If you're new to meal prepping, start small. Just try one recipe that you can eat for lunches for half the week. Or try an ingredient or two to help out with dinners. Too many people start trying to do everything all at once and get burnt out spending 6 hours in the kitchen on Sunday. Start small, see what you like, and work your way up.
How Long Do My Meals Stay Good?
The length of time your food lasts really depends on the type of food and how you store it. See below for a quick reference on the most common food items and how long they'll last.
Cooked meat typically lasts about 3-4 days in the fridge.
Cut, fresh fruit typically lasts about 3-5 days in the fridge.
Protein balls and bars will last indefinitely if you keep them in the freezer
Oatmeal lasts about 4-6 days in the fridge.
Hard-boiled eggs typically last up to one week in the fridge.
Cooked grains/rice typically last 4-7 days
Cut up veggies typically last one week in the fridge
Beans typically last 3-5 days in the fridge
Homemade salad dressings typically last 1 week (dairy-based) or two weeks (vinaigrettes)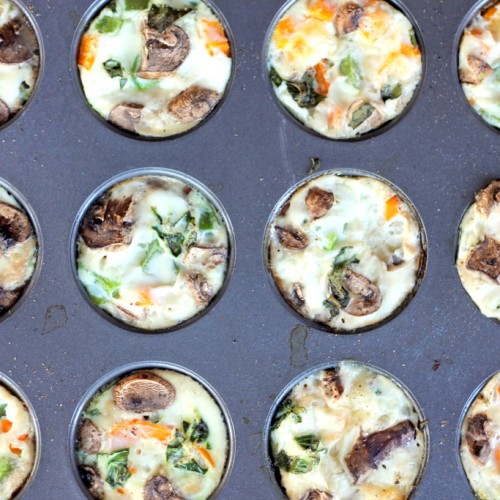 Breakfast Meal Prep Recipes & Ideas
No Recipe Ideas:
Batch of oatmeal
Hard-boiled eggs
Banana Berry Oatmeal Bake
Just 10 minutes is all it takes to prep this delicious breakfast. Then bake it in the oven and enjoy all week long!
Sweet Potato Tot Egg Cups
These perfectly portioned sweet potato egg cups are perfect for meal prep. Wrap them individually for an easy peasy on-the-go breakfast.
Red, White & Blueberry Smoothie
Think smoothies can't be meal prepped? Think again! Simply make a big batch of your favorite recipe, like this festive red, white and blueberry smoothie and store in glassed in the freezer. Get it out first thing in the morning to let it thaw a bit and then sip away!
Chorizo and Spinach Quiche
Make this chorizo and spinach quiche ahead for a delicious and protein-packed breakfast. Just cut a slice, warm it up and you've got a 5-star way to start the day.
Cheesy Egg White Breakfast Muffins
Another great meal prep recipe are the cheesy egg white muffins. They're low-carb, gluten-free and high-protein and are perfect on the go.
Lunch Meal Prep Recipes & Ideas
Mason Jar Salad
Talk about a smart (and cute!) way to pack a lunch salad. Get out your jar and make a batch in an assembly line. Start with the dressing at the bottom to keep from getting soggy and then layer as instructed.
Green Rolls
Take your lunch up a notch with this delicious and healthy green roll. It's filled with quinoa, edamame, turkey, and hummus and wrapped in a green cabbage leaf. It's quick and easy to make and stores well in a Tupperware.
Healthy Chicken & Chickpea Chopped Salad
This salad is LOADED: we're talking chicken breast, chickpeas, sweet corn, grape tomatoes, avocados, goat cheese, fresh cilantro and romaine. We recommend keeping the dressing separate along with the avocado until you're ready to eat it.
Snack Meal Prep Recipes & Ideas
No recipe ideas:
Fresh, cut up fruit
Mixed nuts prepped in baggies
Veggies prepped in baggies (carrots, broccoli, pea pods, celery, radishes)
No Bake Peanut Butter Cup Protein Bars
You know you've been there, snacking on those not-so-good-for-you sugar-loaded peanut butter cups. Now you can have the delicious taste without the guilt. Make a batch and store them in the fridge!
Apple Chai Energy Balls
At under 100 calories each, these energy balls make the perfect snack at work, at home, in the car, wherever! Store in the fridge or even the freezer for longer storage.
Garlic Parmesan Roasted Chickpeas
Ever tried chickpeas for a snack? If not, you're in for a real treat. For a good crunchy treat, make these super addicting garlic parmesan roasted chickpeas.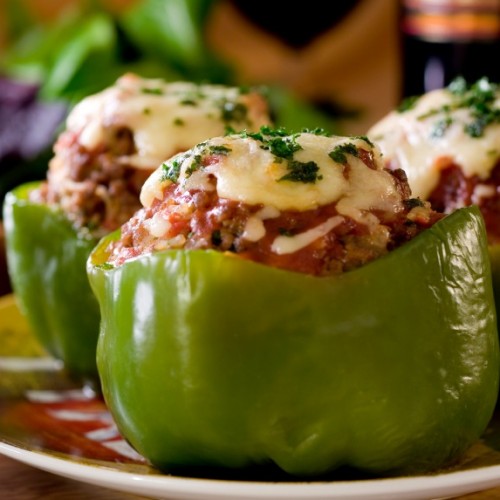 Dinner Meal Prep Recipes & Ideas
Slow Cooker BBQ Pork Sandwiches
This super easy crockpot recipe can be made on Sunday morning and ready for Sunday dinner with leftovers for the week! It's delicious in sandwiches, on top of salads or in another recipe entirely! Make a bunch!
Skinny Italian Stuffed Peppers
This is a great recipe to partially prepare and then finish when you're ready. We like to cook the ground turkey and quinoa ahead then store in the fridge and quickly whip up the rest of the meal when ready.
Southwestern Meatloaf Muffins
There's nothing quite like comforting meatloaf for dinner. The meatloaf muffins are packed with flavor are a great to have on hand. Keep them in the fridge or freezer and pull them our when you're ready. Plus, since you've already made these ahead, you'll have time to whip up a delicious batch of mashed potatoes.

12

Responses to "A Beginner's Guide to Meal Prep"