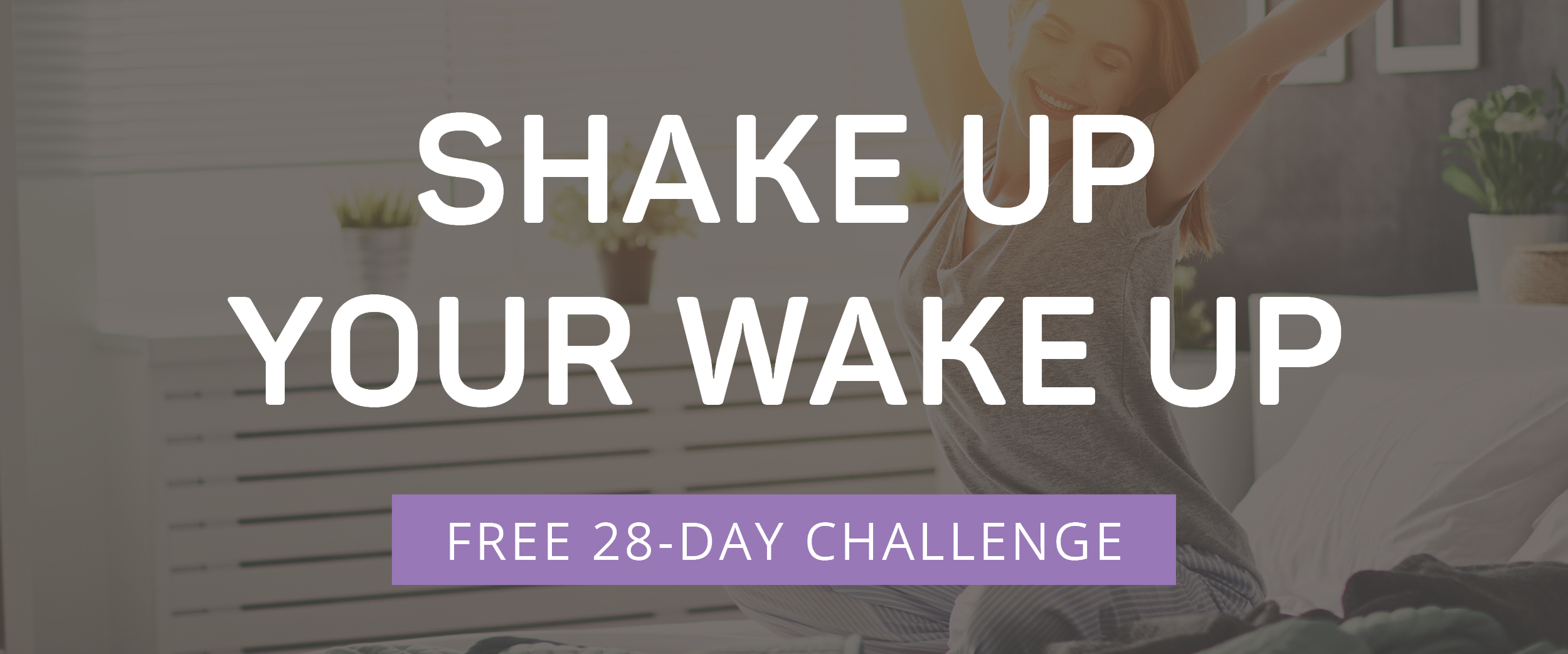 I'm so glad you've signed up for our 28-day challenge! You've already taken the first step toward making your month healthier and happier! If you missed it, here is your download that will guide you through each day of this 28-day journey toward shaking up your morning routine. Why am I so passionate about mornings? Because people who prioritize their health in the morning tend to stick with it!

To complete this challenge, all you need to do is carve out 10 minutes each morning for the next 28 days. That might mean setting your alarm 10 minutes early or maybe you just need to resist the urge to hit snooze. Then follow along with the calendar of short (but effective) workouts and wellness tips! My goal this month is to show you that you really can stick to a healthy morning routine and it's easier than you think. So to start things off in the right direction, here are five tips to help you succeed in the Shake Up Your Wake Up challenge!
1. Prepare The Night Before Whether or not you should workout is not a decision to make in the morning. Your pillow and blanket will win every time. You must make up your mind the night before and make it a priority. Set the alarm (or two). Schedule it in your calendar. Lay your workout clothes out where they are easy to pop on. Set your toothbrush and toothpaste on the counter. Take 10 minutes before you go to bed to prepare as much as possible for the morning and you'll find it much harder to make excuses for yourself come morning.
2. Focus On The Outcome When you can barely pull your body out of bed, visualize how you will feel when you hit the shower after your workout all hot and sweaty, energized and ready for the day! That feeling of accomplishment, pride and strength will be so much more rewarding than a couple extra minutes in bed.
3. Buddy Up Sometimes it takes accountability from a friend, co-worker or family member to make sure you're sticking to your goals. Grab someone to join you in this challenge and encourage each other along the way. Do your workouts together or if that's not possible; check in first thing in the morning with an encouraging note to motivate one another to get it done! Knowing you're in this together will make you less inclined to duck out.
4. Go On Auto-Pilot I know it sounds like odd advice, but the beauty of this challenge is that we've already chosen your workout or task for each day. No need to think about what you should do in the morning, simply read the calendar and do it! Does it say to drink a glass of lemon water? Okay, march to the fridge and gulp it down. Is a 10-minute workout on the calendar today? Great, grab your sneakers and get it in. We hope this challenge rids you of the "what should I do today?" question. There's no need to stress; just follow the calendar!
5. Create a Reward System A healthy reward can encourage you to keep up with your goals. At the end of the week, if you've completed your morning workouts, choose a Friday reward. Maybe you like to get a latte from your favorite coffee shop or treat yourself to a manicure. Big or small, acknowledge the work you did this week; be proud and pat yourself on the back.

Rise and Shine! Every single morning, before I eat or drink anything, I reach for a big glass of lemon water. I squeeze about half a lemon into 12 to 16 ounces of room temperature water and sip. And today, I'm challenging you to do the same!
This has always been one of my favorite tips to share with people who ask for an easy tip to start right away for better health. And I don't just recommend it because it adds a nice taste to your water; lemons have so many health benefits! Here's why you should be gulping lemon water down daily:
1. Flushes Out Toxins When you drink lemon water, you are actually helping to cleanse your body. Lemon juice stimulates the natural enzymes in the liver, which in turn, helps it to flush out toxins! Consider it nature's built-in detoxifier: starting your day with lemon water helps to reset your body for the new day ahead.
2. Balances pH Levels Contrary to what most people believe, lemon water, although acidic in nature, is actually treated by the body as a base once ingested. Most of us tend to consume an overabundance of acidic foods, thus lowering our body's pH level. Lemon water can help the body maintain a balanced pH state, alkalizing the blood and reversing the negative effects of highly acidic foods.
3. Assists in Weight Loss Lemons contain a soluble fiber called pectin that has been shown to help with weight loss. And since liquid calories add up faster than we'd like to believe (just think about your daily Starbucks with whip for a second), lemon juice is a delicious way to add variety to your water without calories!
4. Immune Booster When you think of an "immune boosting" fruit, oranges probably come to mind, right? Well, lemons should be included on your shortlist, too! Lemons are high in both potassium and Vitamin C. The potassium will stimulate brain and nerve function and help control blood pressure, while the Vitamin C will help fight against colds and the flu.
5. Digestive Boost A study in the "International Journal of Food Sciences and Nutrition" released in 2011 stated that taste receptors for bitter substances trigger your pancreas to secrete digestive enzymes and your gallbladder to release bile. This helps the digestive process along and makes the process of eliminating waste products from the body easier, which, let's be frank, is a great thing!
Need another way to shake up your water intake? Try my super awesome water bottle hack or add in these other fruit and herb flavor infusions!

How are those morning workouts coming along? With all the hard work you're doing, it's important to fuel your body, starting with a healthy breakfast. You've probably heard time and time again that breakfast is the most important meal of the day, and for good reason: it helps jumpstart your metabolism so you can burn more fat and have more energy all day long. Yes please!
Okay, so I promised you these challenges would only take you 10 minutes and I'm a woman of my word so below you'll find a couple of my favorite breakfasts you can make in less than 10 minutes. But I'll do you one even better. Imagine a blissful morning when breakfast is ready when you wake up. All it takes is a little prep work the night before. Below you'll also find breakfast recipes you can prep ahead for an easy breakfast that takes no time at all.
10-Minute Breakfast Recipes:
Prep Ahead Breakfast Recipes:
And if you really want to shake up your breakfast habits, check out these inspiring blogs packed with recipes and advice!
If you're anything like us, the smell of fresh coffee is enough to make you do a happy dance. The delicious taste, the comforting feel of a warm mug in your hands, the rich aroma, and of course, the energy it gives you to tackle the day. So, you'll be happy to hear, this morning's challenge is all about shaking up your morning coffee!
There's a lot of conflicting information about coffee, however, and if you are a regular coffee drinker, you may have heard it can stain your teeth, make you jittery, and keep you up at night. However, moderate coffee intake (1-3 cups a day) has been shown again and again to have numerous science-backed health benefits, including a decreased risk of many serious diseases. Hooray!
Check out the below articles on how you can make sure your coffee is good for you (and not laden with excess sugar) and the 15 top health benefits of coffee. We'll drink to that!

Did you know you are more likely to engage in healthier behaviors and take better care of yourself if you are deeply thankful? People who count their blessings and notice the simple joys around them report a more satisfying and healthy life.
Today, instead of letting that Monday morning stress creep in, take 10 minutes to write down five things you're grateful for. Maybe it's the smell of coffee in the morning, the funny things your kids say or the sunshine streaming through the window.
When life moves fast, living with appreciation allows you to connect with the positivity in your life and bask in it. If this is new to you, try keeping a gratitude list in your journal and setting it on your nightstand so you'll see it every morning.
Taking those first few moments in the morning to cultivate an attitude of gratitude has the power to shift your perception for the rest of the day. There's no faster way to lift your spirit and be happy than to live in gratitude. And be sure to check out our Ultimate Gratitude List To Unlock Happiness!

I totally get that mornings are busy. You maybe have little ones to feed and dash off to school, you're trying to squeeze in a workout before work, or you feel like you have 1,000 things you'd like to do around your house. Maybe all of the above?
On mornings when you're feeling short on time and already stressed, I have the ultimate morning starter: Sun Salutation. In less than 10 minutes, a sun salutation can provide you with multiple benefits!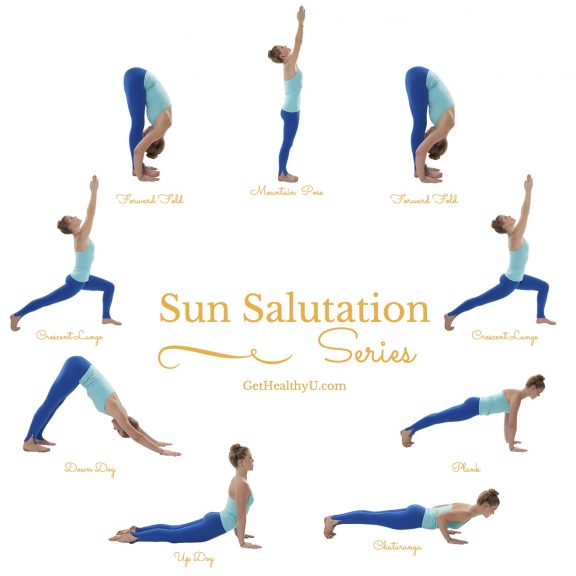 You achieve strength, particularly in your upper body and core, as you move through the planks and chaturangas.
You burn calories during the continuous, fluid movement, going as vigorously as you desire.
You stretch. The poses are designed so that you stretch and lengthen your muscles and connective tissue throughout the entire body.
Morning is the best time to practice a sun salutation as it opens up the body and creates energy for a new day. Plus, it allows you a few moments to breathe deeply, clear your mind and focus yourself before the busyness of the day begins.
If you want some additional ideas to shake up your morning yoga routine, check out these articles including yoga you can do in bed! :)

How are you feeling? I hope you're finding it easier and easier to complete these challenges in the morning and feeling happier and healthier all around. Today's challenge may be either very familiar or very unfamiliar to you: meditation.
Meditation can take shape in a lot of different ways. There are meditation practices based on mindfulness, ones where you repeat mantras, and others that are focused on sending kindness out into the world. But despite their differences, all meditation practices have a common goal: to clear your mind as a method of relaxation.
In addition to promoting a general sense of calm, meditation offers some amazing health benefits that have been studied and documented throughout the years. Science-backed health benefits of meditation include:
lowering blood pressure
boosting your immune system
improving concentration
improving your physical and emotional response to stress
decreasing inflammation and pain
decreasing anxiety and depression
improving memory
So, now you're definitely ready to try meditating, right? Take 10 minutes this morning and give it a shot!

Not a morning person? Try as you might, you just can't seem to make morning exercise part of your routine. But chances are, even if you have trouble doing it, you realize how great it would be to get it out of the way before you take on the day.
After all, the benefits of morning workouts are pretty awesome:
Consistency: It's rare that a meeting or conference call can be called at 6:00 a.m., so interruptions aren't likely.
Hormones: The hormones that help you build muscle and burn fat are at their peak early in the morning, making early workouts more efficient.
Eating Better: Morning exercisers choose a healthier breakfast and studies show that those who start with a healthy breakfast eat better all day long.
Better Sleep: Morning exercisers tend to fall asleep more quickly and sleep better through the night.
Energy: Morning exercise gives you more energy throughout the day. You might think you'd be more tired, but the opposite is true.
Now that you're extra-convinced morning exercise is worth a try, get back in the saddle and finish this month out strong!

Chances are you've experienced some sore muscles so far this challenge. When you work muscles you haven't used in awhile, or just work them harder than they're used to, the muscle fibers break down, but don't worry, that's a good thing! In order to build muscle, you have to break them down first and as they repair, they grow stronger! ` The process, however, can be uncomfortable.
That's where foam rolling comes into play. Foam rolling has become the way to perform self-myofascial release—a fancy term for self-massage to release muscle tightness or trigger points. Basically, by applying pressure to specific points on your body, you are able to help your muscles recover. Of course, getting a deep tissue massage is a nice way to go too, but it takes a lot of time and gets very expensive.
It's inexpensive and you can find a basic foam roller and in 10 minutes begin that well-needed release your muscles need to stay pain-free.
Check out the below articles to learn more!
---
Need a new challenge? Check out all of our other challenges here. Or if you like the idea of focusing on one small thing each day, check out my 101 Fitness Tips that can lead to awesome results and lasting change!
Thanks so much for participating in this challenge with me. I do hope you feel proud of yourself; I know I do!
Until next time, –Chris Freytag