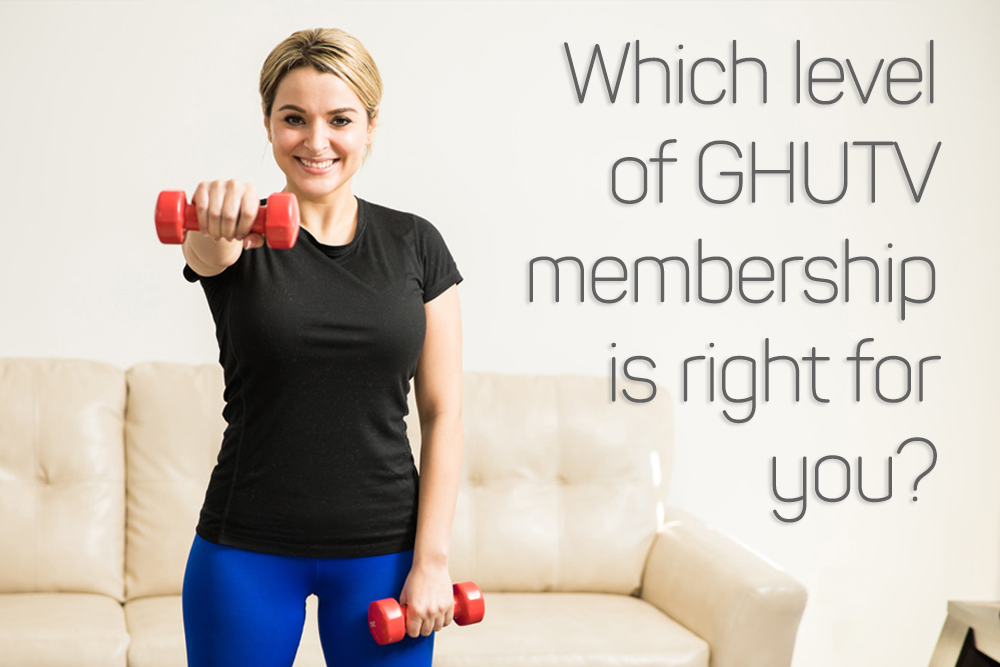 Welcome! We're so glad you've come to Get Healthy U TV. Whether you're new here, or just getting the chance to look around, we've compiled some great information on the differences between Get Healthy U and Get Healthy U TV membership levels. Each level has different benefits for you to take advantage of, so to help you make the most of your experience here, let's delve into the unique features of each level!
Get Healthy U is our free content site, dedicated to delivering fitness, nutrition, and healthy living advice that's practical, truthful, and gimmick-free. It also features a comprehensive exercise library which shows you exactly how to do pretty much every exercise ever, step by step! From fit tips to nutritious recipes and articles on weight loss, aging, hormones, and more, we've got tons of advice on how to get healthy today.
Joining Get Healthy U TV at the Premium level is a great way to solidify your fitness goals with a library full of full-length workouts to do at home whenever you want! You can stream any workout at any time on any device, including your laptop, phone, iPad, Smart TV, and more! As a Premium Member, you enjoy unlimited access to these workouts and tons of workout calendars to choose from when you want to follow along on a 28-day plan.
You also get access to our exclusive Facebook group only for Get Healthy U TV members; we motivate each other, share our struggles and successes, and keep each other accountable. It's a great way to connect with likeminded people who are on the same journey you are! New workouts and workout calendars are being added all the time—from cardio kickboxing to strength training and every yoga, Pilates, and Barre class in between!
To become a Get Healthy U TV Premium Member, click here.
As a Gold Member, you not only receive access to our entire library of full-length workouts to stream, but you also get 10 free workouts to download; meaning you can download 10 of these full-length workouts onto your computer for situations where you are without wi-fi (say, on vacation or a business trip). As a Gold Member you also receive access to a new LIVE workout each week, where Chris and other trainers lead you through fun, intense workouts like Pilates, kettlebell training, HIIT, and more! If you miss one of the live workouts, don't worry! They're saved to your account and you can watch them any time.
To become a Get Healthy U TV Gold Member, click here.