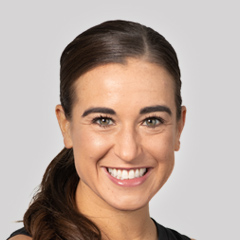 Core Strength + Stretch
Sam Cameranesi
If you like a little longer warm-up and cool-down, this format is for you. Trainer Sam Cam does not disappoint with a complete and effective core body-strength workout combined with a solid warm-up and cool-down.
Sam starts with about 8 minutes of warm up, follows with 20 minutes of core body work, and ends with an effective 15-minute stretching session. Sam focuses on strong ab work like weighted crunches and roll ups. She also focuses on your back muscles. It's a complete core workout because working your core means more than trying to achieve six-pack abs.
Core work strengthens your abs and back, improves balance, and helps make every day activities feel easier and better. Your ab muscles will be comfortably sore after this one. If you are looking for a stronger core, Sam has got it for you here. The longer warm-up really allows your joints and muscles to acclimate. The final active stretch will help you with strength and flexibility.
If you enjoy this ab workout, check out the other Strength + Stretch workouts in this series: The Lower Body, Upper Body, and Balance Training workouts will help complete your week.
Level: Intermediate, Advanced
Equipment: Medium dumbbells, Mat
Instructor: Sam Cameranesi
Popular Abs & Core videos
Explore videos by Sam Cameranesi