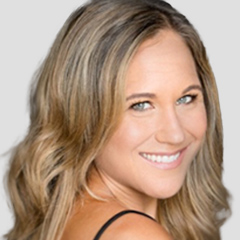 Stress Relief Yoga
Jennifer Galardi
Relax your mind and body in this restorative yoga practice led by Jennifer Galardi. After years of intense workouts, Jennifer discovered one of the best gifts she could give herself was self-care, and now she wants to share that gift with you. This Stress Relief Yoga practice is the perfect bookend to any day or add-on to any workout. Recovery is so important to incorporate into your week so you don't get burnt out and place too much mental or physical stress on yourself.
You'll start this relaxing yoga practice with some deep, healing breath work. Jennifer will then guide you through long, restorative stretches that will open up your body and calm your mind. You'll perform poses standing up and on the floor, and no yoga experience is necessary for this restorative and simple practice. You'll end the practice with some deep, restorative time in corpse pose, which is a floor pose that helps totally relax the body. Unlike most yoga programs online, this savasana is a full 10 minute stress relaxation and it's amazing.
Jennifer will help you with your alignment throughout the practice, but if you're new to yoga, don't worry—this is a simple yoga flow designed for stretching and self-care, not an intense flow that will have you sweating. This would be an ideal practice to do before bed or at the end of a long day of work to refocus and center yourself. The mind body connection is so important, and yoga helps us alleviate the stress that manifests in both our bodies and our minds.
This type of stress-relieving yoga practice helps to relax the nervous system, which is so important for your overall health. Relaxing the nervous system can improve your digestion, boosts your circulation, improves your mental focus, and can even improve the quality of your sleep. Whether you've had a busy week at work or are finding your body needing a little TLC, take some time for you today with this stress relief yoga practice.
Be sure to try our relaxing yoga flowetry and prenatal yoga programs!
All exercises you perform are your own responsibility and you perform them at your own risk. Always seek the advice of a physician or other qualified health provider before starting any physical exercise, fitness or wellness regiments of any kind.
Level: All Levels
Equipment: Bodyweight, Mat
Instructor: Jennifer Galardi
Popular All Videos videos
Explore videos by Jennifer Galardi