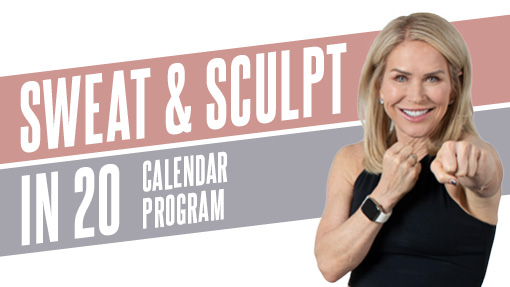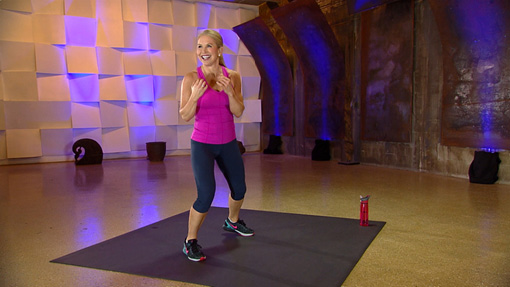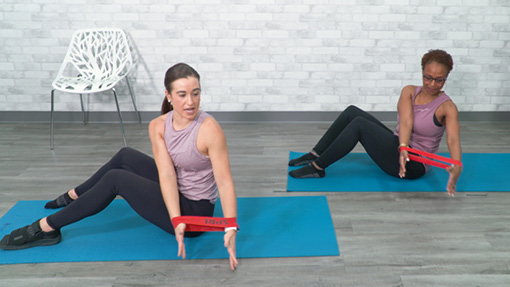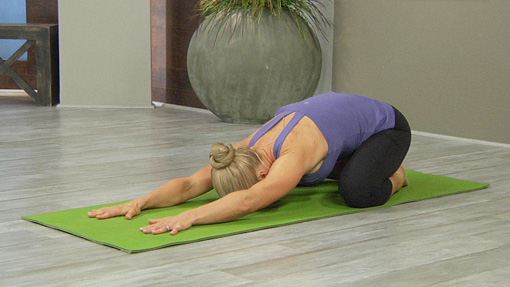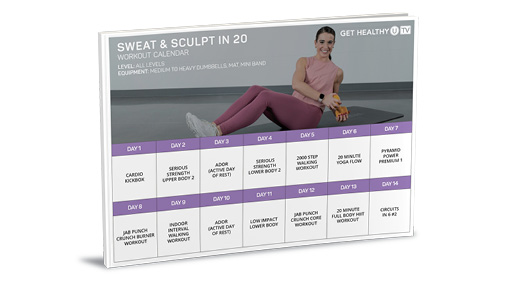 Sweat & Sculpt in 20: Calendar Program
You Save 60%
T9094R
Description
2-DVD Set: Sweat & Sculpt in 20: Calendar Program
This program is all about quick and eff ective exercise. These 12 workouts are all 20 minutes and will get your heart rate up, work all your muscle groups and increase your energy and mood. A few regular exercise sessions a week can build muscle and help you feel stronger in all aspects of your life.
Short on time but in need of some stress relief? These workouts are full of heart pumping, strength building exercises. There are six 20-minute workouts for two weeks with one built in rest day. Feel free to swap or move the workouts around if a certain day doesn't work. Feel free to add in a few more rest days a week and stretch these 12 workouts out over the course of three or four weeks.
Moving your body and working on some strength, cardio and stretching during the week will help with your body and mind. Get ready to Sweat & Sculpt in 20 with our motivating trainers and look and feel better!
12 Different Workouts, PLUS a printed Calendar
Total video run time: 4 hours, 43 minutes
Workouts included are:
Cardio Kickbox (20 min)
• Serious Strength Upper Body 2 (25 min)
• Serious Strength Lower Body 2 (25 min)
• 2000-Step Walking Workout (23 min)
• 20-Minute Yoga Flow (21 min)
• Pyramid Power 1 (22 min)
• Jab Punch Crunch Burner Workout (23 min)
• Indoor Interval Walking Workout (20 min)
• Low Impact Lower Body (25 min)
• Jab Punch Crunch Core Workout (22 min)
• 20-Minute Full Body HIIT Workout (24 min)
• Circuits in 6 #2 (28 min)
All exercises you perform are your own responsibility and you perform them at your own risk. Always seek the advice of a physician or other qualified health provider before starting any physical exercise, fitness or wellness regiment.