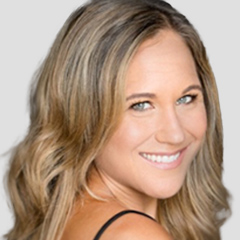 'Sneak Peek' of Our Cardio Dance Workout Program
Jennifer Galardi
Are you looking for an upbeat cardio dance workout that helps you burn calories? Then our Sweating Sexy program is for you! Led by Jennifer Galardi, these dance routines give you a great cardiovascular workout while also being a fun form of exercise you can look forward to. Each cardio dance workout in this program has toning moves to sculpt a lean and defined dancer's body. You'll get your heart pumping, shake your hips, and get stronger as you engage different muscle groups while you sweat to the music.
Start with the Sweating Sexy Warm Up, which teaches you specific isolations that you'll do in the workouts. Isolations are the foundation of dance workouts—they teach you what muscles you'll be engaging and how to use them in the full routine. After the warm up, you can begin Sweating Sexy Part 1! This first cardio dance workout builds on the isolations you learned in the warm up; you'll be engaging your abs, waking up those muscles, and getting your body ready for more dance. Next, you'll move on to Sweating Sexy Part 2. You'll jump, kick, and dance to the music, incorporating ballet-inspired movements along with plyometrics and the isolations you've learned in the warm up. Combining these movements, you'll soon find yourself in a full-on dance routine that you just learned without even realizing it—and all while having a blast.
After your workouts, use Sweating Sexy Cool Down to stretch those muscles and give your body some love after all that hard work. No formal dance training is necessary for any of these workouts, and Jennifer will provide tons of modifications and encouragement along the way so all fitness levels can join in. If you've been looking to try a cardio dance workout, Sweating Sexy can help you dance off those last few pounds and have fun doing it.
All exercises you perform are your own responsibility and you perform them at your own risk. Always seek the advice of a physician or other qualified health provider before starting any physical exercise, fitness or wellness regiments of any kind.
Popular Sweating Sexy videos
Explore videos by Jennifer Galardi