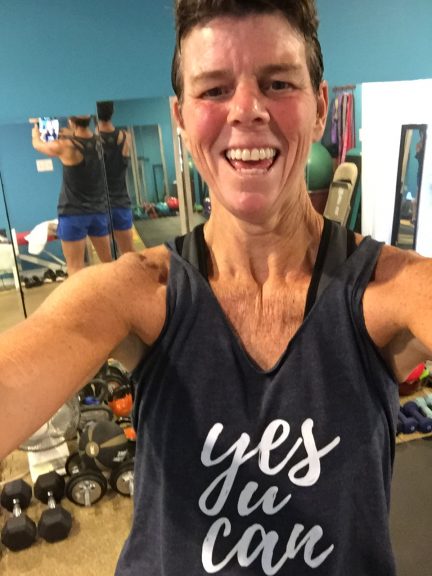 Why did you join GHUTV?

I have always loved working out at home using DVD's, but felt I was missing something but not sure what. While searching "Chris Freytag" (whose videos I have done for many years) I came across GHUTV and realized it was the feeling of "community" with like minded people that was missing! I joined immediately and it has been life changing with the positive energy, inspiration, motivation, kick booty workouts, realness of all the trainers and of course the "yes you can" attitude of Chris and her amazing team of trainers to set everyone up for success no matter what your physical level. The GHUTV members Squad FB page brought it all home for me with a strong, beautiful, uplifting group of women who cheer each other on and share support, encouragement, successes and struggles in a complete nonjudgmental environment. We have all become friends in fitness, accountability partners as "we are stronger together!"



When did you join GHUTV?
October, 2019
Why do you choose to work out with GHUTV rather than other brands?
My first draw to GHUTV was the positive and uplifting energy that exudes from Chris and all the trainers. Their main goal is for the success of every single person working out with them, no matter their fitness level and demonstrate many options for every exercise whether it's to modify or go beast mode! The wide variety in styles of workouts from strength, cardio, kickboxing, yoga, Pilates, Barre, step, just to name a few keeps you from ever getting bored! Short on time? Want a longer workout? There are workouts from 10-45 minutes in every genre of exercise so no excuse to not push play!
There are calendars to follow if you choose or go rogue! The GOLD Live workouts every week bring you right into the room with your favorite trainers and is so motivating and FUN! Who needs a gym? Not Me! My goal that I'm working on is completing every GOLD workout from the very first one to today and I'm halfway there and some of my new favorite workouts are ones that I would have considered out of my wheelhouse, so try new things, you may be surprised!
Why is GHUTV one of your go-to fitness resources?
GHUTV is so much fun even when you are pushing yourself to your maximum! The trainers are the best and the yearly fee is so reasonable for the hundreds of workouts you have access to. My daily workouts and the Squad FB page are the highlights of my day!
What is your favorite part of your GHUTV membership?
First is the outstanding and motivational trainers. Second is the huge variety, lengths and styles of workouts! I can find a workout to do every single day depending on time, how I feel and even for recovery days!
What have you achieved with GHUTV?
I am 52 and have lost 10 pounds, now at goal weight, even going through those changes of life. But more importantly is the non-scale victories of increasing muscle mass, strength, energy and confidence. The sense of community, connection and meeting the best accountability buddy has healed the mind and soul!
What would you tell your friends about GHUTV?
Give it a try! There are lots of free 10 minute workouts but I guarantee you will want more and be hooked immediately to progress to premium or the best, GOLD! You will have all the support you need from Chris, the trainers and the Squad to be successful and move forward daily to meet your goals!
What is your favorite GHUTV workout?