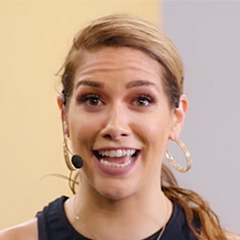 Ballroom Basics: Cha-Cha Dancing 1
Allison Holker
Get up off your feet and get ready to try some ballroom cha-cha dancing with Allison Holker. Known for her appearance on So You Think You Can Dance and spouse to the well-known Steven Twitch Boss, Allison is an amazing dancer and teacher. This Cha-Cha Dancing 1 is full of spicy feet, spicy arms, and all-around spicy choreography that is fun and energized!
Whether you are a dancer at heart or just a beginner, Allison breaks it down to help you learn. Her fabulous smile and kind demeanor make this workout fun even if you are new to ballroom dance. Cha-Cha Dancing 1 is a dance lesson and workout all rolled into one! You'll learn each dance step by step, and before you know it, you are in an all-out cha-cha groove! Use your new moves at home or take them with you the next time you're out with friends!
What we love about these ballroom dancing videos is your chance to completely let go and have an amazing time moving your body. Dancing at home gives you the freedom to let go of judgement and just enjoy. You can do it alone and laugh at yourself or get together with a partner or friend and learn to dance together!
Cha-Cha Dancing 1 teaches you how to dance while raising your heart rate and giving you a killer workout. Take one step at a time as Allison shows you the simplicity of each move and how to focus on your hips. Once you start adding these simple steps together, you might just find that dancing is easier than it looks. So join us for Cha-Cha Dancing 1 and have a blast while you work out!
Level: All Levels
Equipment: Bodyweight
Instructor: Allison Holker
Explore videos by Allison Holker