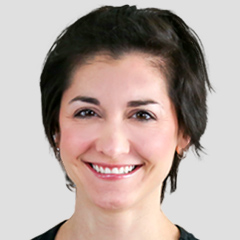 10 Minute Cardio Circuit
Leah Zahner
Looking for a way to get a quick cardio routine done in the comfort of your own home? Join Leah Zahner for this 10-minute cardio circuit that will burn calories and leave you feeling accomplished. All you'll need for this cardio circuit workout is a little bit of space and your own bodyweight—there's no equipment required. After starting with a few warm-up moves to wake up your muscles and joints, you'll head right into the main workout.

Leah will show you three basic movements and you'll repeat them for three rounds, but modify them slightly for each round. These tiny changes during each circuit help to target new muscles and keep things interesting while burning calories and getting your cardio done for the day. You'll start with basic jumping jacks, squat jacks, and mountain climbers—three of the most effective bodyweight exercises around! On the next circuit, Leah will lead you through a slight variation in arm movements during the jumping jacks to target your back and shoulders. For the squat jumps, you'll try side-to-side squat jumps to really target your thighs. And after that, you'll do a plank-to-squat movement that will have you feeling the burn.
For each circuit you'll change the movements ever so slightly, finishing this cardio circuit with burpees and feeling strong! Throughout this cardio circuit, Leah provides low-impact modifications for each move too, encouraging you to do what you can and do what's best for your body. Getting enough cardiovascular exercise is so critical for overall health, especially if you're trying to lose weight. That's why quick cardio workouts like this one are so great to have on hand. You'll get your heart pumping and have fun in this fast-paced workout that all fitness levels can enjoy. If you liked this cardio circuit, try this cardio routine or one of our members' favorites: cardio kickboxing!
5

Responses to "10 Minute Cardio Circuit"
Explore videos by Leah Zahner