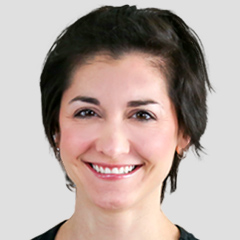 GOLD Low Impact Fusion 3
Leah Zahner
Join us for this Get Healthy U TV workout, exclusive to those with GOLD membership! Leave the jumping behind and join Leah Zahner for 3rd in our series of Low Impact Fusion workouts. This is a great total body workout. Yes it's low impact but not low intensity! You'll be using dumbbells and your full range of motion to maximize your efforts, but by staying anchored to the floor, you will eliminate any high impact strain on your joints. Whether you're recovering from an injury, cross training with another high impact activity, or just want to take a break from jumping, this workout will get you sweating in no time!
Level: All Levels
Equipment: Dumbbells (med and heavy), mat
Instructor: Leah Zahner
In order to view the Live Class, be sure to visit this page while logged in to your GOLD member account. Want to stream this workout to your TV? Here is how to do it.
THIS EVENT IS ONLY AVAILABLE FOR GHUTV GOLD MEMBERS

Popular Live Class videos
Explore videos by Leah Zahner