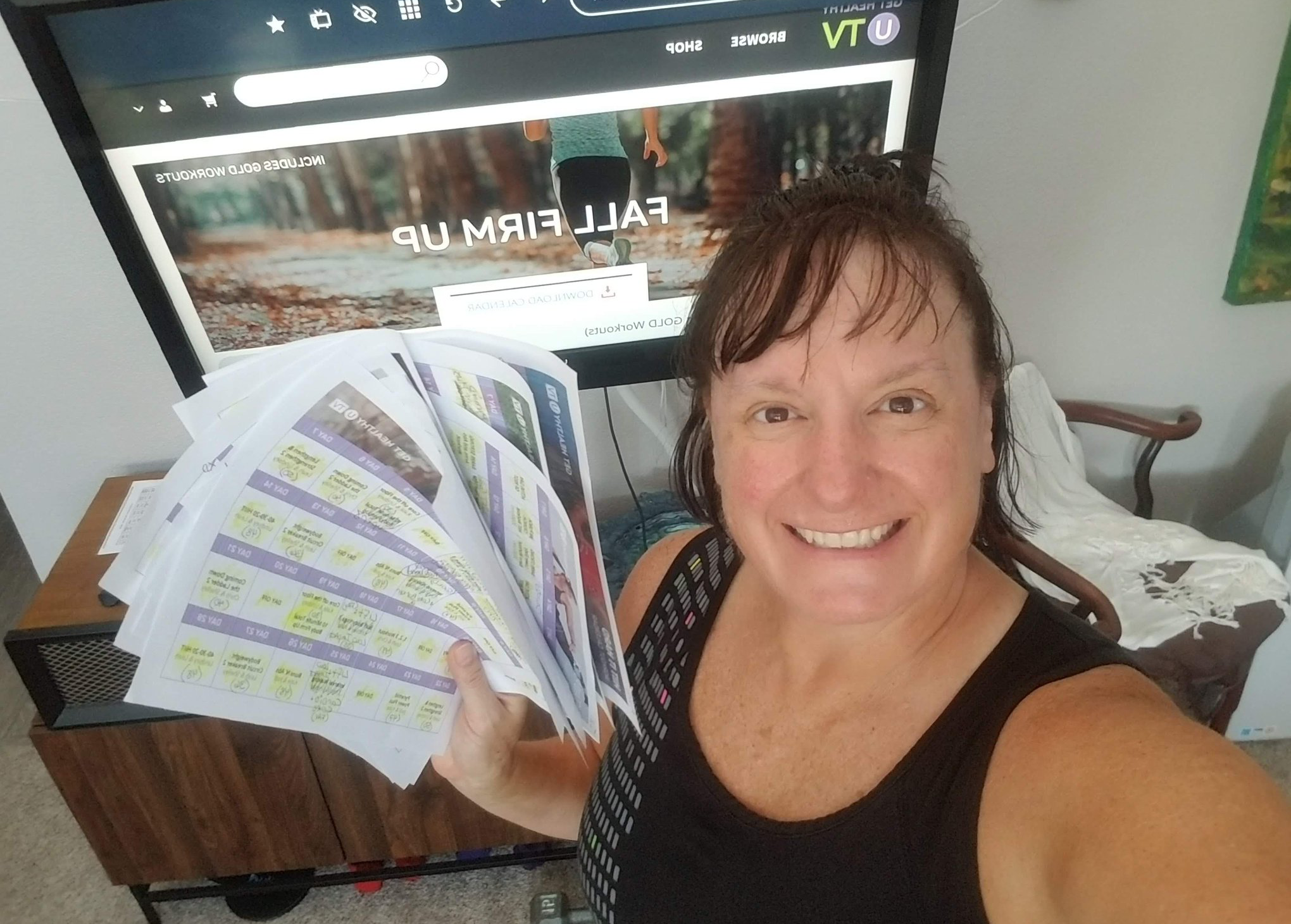 We absolutely love seeing how everyone is working out at home, and we hope Get Healthy U TV can help you reach your fitness goals! Our members are such an inspiration, and hearing from them keeps us (and our whole community) motivated. If you have a story you'd like to share about how GHUTV has helped you stay fit, healthy, and motivated to work out, be sure to reach out and let us know!
Now, we'd like to give a shoutout to one of our amazing members, Debi! She has completed 12 GHUTV Calendars and has a review of each one to help you pick something to fit your routine! Read about Debi's story below!
Keep up the great work girls. You CAN do this!
I turned 50 (!!!) this week and if I can do it, so can you. I believe in you. See below for my take on all the calendars I've completed.
January: Barre Sculpt & Strong = very enjoyable and a great way to get started on a calendar. Each workout is about 20-30 minutes and they are definitely ones I come back to because they use your muscles in a very different way.
February: Strong & Lean = great way to start building up on weights. I started with 3-5 lbs to avoid injury and build up my muscles.
March: Serious Strength = this is the month I could really see my strength building and overall improvement in my fitness. Easily moved to 8-10 lbs weights after February!
April: Muscle Max Out = this one is where I saw the most change in my body. I love the "no repeat" workouts! By the end of the month I was using 15 lbs weights and starting to see results.
May: 28-Day Shred = lots of GOLD workouts that are fun and go by fast. This is the month I could really see the benefit of stretch days and realized how much I love Pilates.
June: Lift & Punch = lots of variety on this one. HIIT, Barre, strength, it's all in there and I'm starting to figure out what I like and what I don't, what my body likes, and when to rest.
July: Boost Your Immunity = this is a GOLD calendar and the workouts are long. You have to have time to do this one to be successful at it but it's got some great workouts. For some of the workouts, you need a step to complete them, so either substitute or get yourself a step for maximum success.
August: HIIT It Hard = this calendar has a lot of repeats but it's fun to see progress from the beginning of the month to the end. I substituted GOLD HIITs for the split days because I don't like stopping and starting. You'll really up your cardio game with this one.
September: Fall Firm Up = I highly recommend this calendar for anyone. It's got super fun workouts and an excellent variety of weights and cardio. No special equipment is needed besides hand weights. I loved the variety of this one. It was perfect for going into this busier time of year and a can definitely see new definition in my arms, chest, and legs. Try it!
October: Rock Your Body Bootcamp= This was an interesting calendar in that there were only 4 workouts. So, here's my suggestion… If you are new to calendars and working out – do this calendar as is. You will definitely see results. You will need weights and a stability ball for this one and the Powerball workout is a blast. If you are a workout vet you will probably want to add in some of your favs to this calendar. I suggest doing each of the four workouts at least once a week and supplementing with favs from your playlists. I added in Upper, Lower, and Core LIFT, Rhythmic Repetitions, Core Off The Floor, and Total Body Firm Up to the double days. I definitely saw results from doing the 4 main workouts each week – results in my arms, glutes, and legs. No joke, this one is worth a try!
November: Move Your Body Mashup = So, out of 12 calendars this year, this one is my favorite. It's what I wanted October's calendar to be. It's so FUN!! This calendar is the perfect blend of strength and cardio and you will definitely see improvement over the 28 days. I am a Powerball fan so I love that one, plus the kettle bell workouts add variety and use muscles in a new way. This is a calendar you will enjoy doing every day! (Good for all fitness levels)
December: Sweat In 30 = This was the perfect calendar for December. Even with a pandemic it was still a busy month and this one made it easy to get my workouts in. I would recommend this to anyone who is anticipating a busy month (holidays, weddings, graduations, vacations, etc.) or who wants a maintenance calendar. The shorter time gives you no excuses to get a workout done. As a GOLD member I did the premium version and loved it. It was perfect for me. Tons of variety, lots of good cardio, excellent strength options and as always, lots of FUN! I came out of the holidays with no weight gain and ready to tackle the new year with confidence.
The benefits of Calendars are a great way to get into a healthy habit of working out. They take the guess work out of choosing what to do each day, they build confidence, and for me they have created a much healthier relationship with my body, the food I eat and how I move. After 12 calendars I don't stress about a cheat meal, the occasional dessert, or an extra piece of pizza. I know I'm moving in a way that's healthy and doable for me. I can work in my yard without fear of getting sore or pulling something. I can play with my kids, my dog, go on long bike rides or hikes and live a lifestyle that is fun and active. The benefits of doing a calendar are incalculable You won't regret doing a calendar. ROCK on people!!
5 TIPS:
1. Go at your own pace but push yourself. You can do more than you think!
2. Take rest days when they are listed. Your body will respond better in the following days for better results.
3. Make room for stretching – if it sounds boring, do Pilates. Pilates will stretch you while you challenge your muscles too.
4. Substitute as needed, either for soreness or enjoyment. I don't do yoga so I sub other fun workouts in and have found some real gems that I go back to over and over.
5. Have fun! There's so much variety on GHUTV you can't help but find something you love. ROCK on!