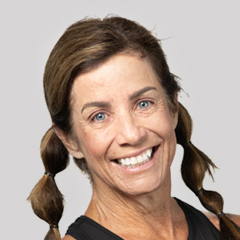 Dumbbell HIIT
Shelly Hawkins
Whether you're a HIIT regular or have never tried it, this workout is for you! Welcome to our 30-minute HIIT workout that will both challenge and welcome you into the world of high intensity interval training.
By now most people know the value of high intensity interval training: it torches calories, boosts your metabolism and increases your capacity for working out. But HIIT can also sound and look pretty intimidating. Not this time! This 30-minute HIIT workout brings you the best mix of solid, steady dumbbell exercises and fast, energetic bodyweight moves all combined for a calorie-torching, metabolism boost to shake your body into fitness mode! Shelley Hawkins will coach you while Sam Cam plays along and Chris Freytag provides low impact options for everyone. No matter where your body is coming from, this HIIT workout is accessible and fun!
This 30-minute HIIT workout is based on tabata interval training. This means 20 seconds of work followed by 10 seconds of rest for eight moves in a row! 20 seconds is just enough time to push yourself hard and reach your high intensity goals. The blend of moves in this workout is what makes it so good. It mixes dumbbell moves like squat-bicep curls or reverse lunge front raise, with fast energetic bodyweight moves like burpees and side to side taps.
If you are looking for a little more strength, grab 10, 12 or even 15-pound dumbbells. If you want to keep it lighter, 3 or 5-pound weights will do the trick. You can even skip the weights and simply go through the range of motion without them. The whole way through, these girls encourage you to go at your own pace! So come on into the wonderful world of HIIT! You won't regret it!
Level: Intermediate, Advanced
Equipment: Medium to Heavy Dumbbells, Mat
Instructor: Shelley Hawkins
Explore videos by Shelly Hawkins