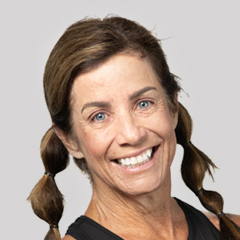 10-Minute Bicep and Tricep Workout
Shelly Hawkins
Join Trainer Shelley Hawkins for a 10-minute biceps and triceps workout to sculpt and strengthen your arms. Shelley will take you through a variety of exercises to work these opposing muscle groups. Moving through a full range of motion with a little heavier set of dumbbells will recruit your muscle fibers and help to sculpt and strengthen your arms. Shelley moves rhythmically throughout the 10 minutes but encourages you to move at your own pace depending on your fitness level and the size of the dumbbells in your hands.
Using muscle and not momentum, you will do a variety of bicep curls, tricep extensions and kickbacks and your arms will feel it. This is a great workout to tack at the end of any other strength or cardio workout. It also is a great stand-alone workout to use regularly if you are working on arm strength.
This is an all standing wrist friendly workout, with zero planks or push ups! So grab your weights and let's get ready to feel the burn.
Level: All Levels
Equipment: Medium and heavy dumbbells, mat
Instructor: Shelley Hawkins
Explore videos by Shelly Hawkins