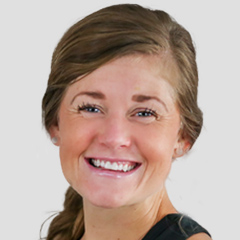 Bodyweight Cross Training - Cardio Crusher
Lindsey Bomgren
Welcome to our bodyweight cross training cardio crusher workout! This is 30 minutes of pure cardio for both high and low impact exercise! Whether you love high impact moves or need to stay low impact, you are going to love this crusher! This bodyweight cross training workout gives you the best of both worlds! This is a super user-friendly workout because there is no special equipment needed. You can do it anywhere and anytime as long as you are ready and willing to move! We've got your basic squats, burpees, push-ups alongside plenty of other creative moves so get ready to sweat and torch some fat! Plus, you'll get a few bonus rounds of core work to flatten that belly and strengthen your back!

Join GHU trainers Lindsey Bomgren and Sam Cameranesi as they bring the energy and motivation to lead you through this funfest of sweat. For each exercise you will start with a low impact move and progress into a high impact move from there! Sam will stay with those of you who want the low impact and Lindsey will move along with all you high impact people. High impact is always fun and motivating but low impact can be just as intense in a different way.
If you are recovering from an injury or surgery, are pregnant or postpartum, or just experiencing sore joints, low impact is great for you! Whatever you choose here we can promise you it won't mean less work! You are going to sweat, burn calories and have fun–low- and high-impact alike. Plus, after each set of six exercises for strength and cardio you're going to get a 1-minute core move to build up your core and back strength. This workout does it all with no special equipment! Just bodyweight exercises! Then join us for our Jab, Punch Crunch Burner workout for more low and high impact cardio fat burning!
Level: Intermediate, Advanced
Equipment: Bodyweight, Mat
Instructor: Lindsey Bomgren
Popular All Videos videos
Explore videos by Lindsey Bomgren