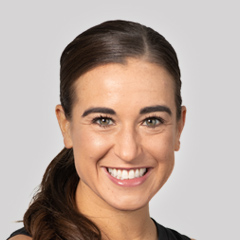 Cardio Sculpt 2
Sam Cameranesi
You all loved version one of Cardio Sculpt, so we are delivering you our second round of Cardio Sculpt 2 and bringing the heat with this one! This workout will get your heart rate up and build some serious strength for 40 straight minutes!
Throughout this Cardio Sculpt workout, Get Healthy U TV Trainer Sam Cameranesi will provide you with fun combinations of a strength exercise and a cardio exercise. You will go back and forth between using the dumbbells and using your own body weight to build strength and burn some serious calories throughout the cardio exercises.
You will work for 30 seconds at a time, with 15 seconds of rest between each move. This full-body circuit workout will give your metabolism a boost, burn lots of calories, and tone your entire body all at once. It's the same great workout you got with Cardio Sculpt 1, but a little longer and with different exercises—because why not?!
Grab multiple sets of dumbbells for this workout (anywhere between 8–20 lbs is encouraged), and remember to do what feels best in your body. For low-impact options throughout this workout, you will want to follow along with trainer Valerie Fleurantin. No matter your level of fitness, this circuit workout is fun and provides a great calorie burn!
Get ready to feel the heat! This workout is fun and effective (If you are looking for a shorter version, Cardio Sculpt 1 is 30 minutes). Give it a try!
Level: Intermediate, Advanced
Equipment: Medium to Heavy Dumbbells, Mat
Instructor: Sam Cameranesi
Popular Cardio Strength videos
Explore videos by Sam Cameranesi