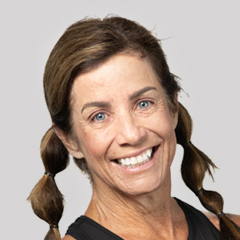 Dumbbell HIIT 2
Shelly Hawkins
Let's HIIT it again! Join us for this 30-minute Dumbbell HIIT 2 and get your body in shape in record time! High Intensity Interval Training (HIIT) has been proven time and time again to be one of the best ways to lose weight and get in shape, yet the mere thought of doing HIIT can seem impossible to some or intimidating to others. Not this Dumbbell HIIT 2 workout!
Led by one of our awesome trainers, Shelley Hawkins, this is a fun, fast 30-minute blast that anyone can do. Trust us when we tell you this workout is over before you even know it began! If you can't do some of the moves, Chris Freytag provides modifications while Tara Putz brings the heat for those who want more!
Dumbbell HIIT 2 is a great mix of working with the dumbbells for some strength as well as working with bodyweight for that big cardio push! The dumbbell moves strengthen everything from biceps to shoulders to hamstrings and more. The bodyweight moves are fun, fast drills that kick your heart rate up and some that strengthen your core. And while some moves are definitely kick-butt hard, remember that this tabata-style training means you only do an exercise for 20 seconds and rest for 10. You can do anything for 20 seconds!
If you want a bit more strength and muscle-building, grab 10-, 12-, or even 15-pound dumbbells. If you want to keep it lighter, a pair of 3- or 5-pound weights will do the trick. In fact, if you want to skip the weights completely, that's a great option too! The key is to listen to your body and move at your own pace. No matter what you do, enjoy some time doing HIIT with us!
Level: Intermediate, Advanced
Equipment: Medium to Heavy Dumbbells, Mat
Instructor: Shelley Hawkins
Explore videos by Shelly Hawkins