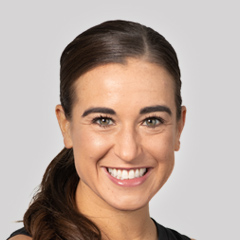 Low Impact Dumbbell Strength
Sam Cameranesi
Looking for a kick-butt, low-impact workout to build strength? Here it is! This Low Impact Dumbbell Strength workout was made for anyone looking to work hard and sweat without all the jumping and pounding that happens with high-impact movements. In other words, your muscles will thank you but so will your knees, hips, and back!
Keep this phrase in mind: low impact does NOT mean low intensity! Even though we are keeping this one low impact, it is not for the faint of heart! Get ready to kick your own butt and burn some big calories!
We all know that building strength is crucial for a healthy body, a good metabolism, strong bones, and so much more. With this Low Impact Dumbbell Strength Workout, you'll get it all. Join trainer Sam as she takes you through several circuits each covering lower body, upper body, and total-body moves. Each move lasts 45 seconds, giving you just enough time to really feel your muscles go to work. By the time you get through all of the circuits, we guarantee you'll hit every muscle you can possibly find! Here's a sample:
Your first 45-second lower-body move is a deadlift reverse lunge combination for the legs. Next is the upper body, and you'll hit those shoulders with a dip drive shoulder press. The last move of the circuit is for total body and combines both a deadlift to shoulder press and reverse lunge blast!
But wait, there's more! Once you finish that circuit, you repeat it one more time! Trust us, the low-impact muscle moves you perform also drive your heart rate up and keep you in a steady cardio zone for solid fat burning while building muscle. This workout is the real deal and approachable for everyone! So join us and build some muscle while having tons of fun.
Level: All Levels
Equipment: Medium to Heavy Dumbbells, Mat
Instructor: Sam Cameranesi
Popular Low Impact videos
Explore videos by Sam Cameranesi