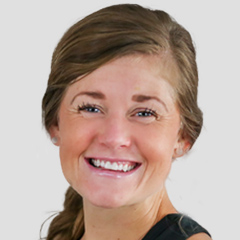 Move Barre Sculpt
Lindsey Bomgren
Are you ready to burn calories and build strength? Carve and define in this 20-minute Barre sculpt workout that blends Pilates, ballet, isometric holds and functional strength training to tone you from head-to-toe. This total-body Barre sculpt workout will help firm up the areas we all love to work the most: arms, abs, thighs and glutes. Even though this is a Barre workout, there's no formal dance training necessary. Lindsey will guide you through each move with detailed instruction, offering motivation and modifications along the way.
All you need for this Barre sculpt workout is a chair—some light weights are optional. You'll start with a quick warm-up in second position, doing some Barre-style squats and lunges. Next, you'll go into plank position, working your arms and abs. You'll hold the plank and begin to activate your muscles as you transition into a push-up down dog series, moving from low plank into side plank.
Then you'll transition into second position for sumo squats with your weights. After that, it's onto arabesques using your chair as a rest, working the hamstrings, obliques, and core. Next you'll perform moves like fire hydrants, which utilize slow and controlled movements to work those lower abdominals and glutes. These slow and controlled movements are what Barre is known for, and you'll get quite familiar with them in this total-body Barre sculpt workout. These strengthening and stretching movements help work your muscles and you'll be surprised at what seemingly "small" pulsing movements can do for your muscles—you'll definitely start to feel the burn!
Your arms, thighs, abs, and glutes will all get an amazing workout and you'll feel so proud and accomplished after this 20-minute routine. No matter your fitness level or if you've done other Barre workouts before, Lindsey provides plenty of instruction and proper modifications for all fitness levels to reap the benefits of this total body Barre sculpt workout.
Want more? Check out the other workout routines for women that we have to offer.
All exercises you perform are your own responsibility and you perform them at your own risk. Always seek the advice of a physician or other qualified health provider before starting any physical exercise, fitness or wellness regiments of any kind.
Level: All Levels
Equipment: Light Dumbbells, Chair, Mat
Instructor: Lindsey Bomgrem
Popular All Videos videos
Explore videos by Lindsey Bomgren