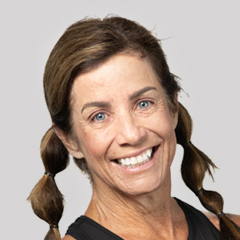 Serious Strength Lower Body 2
Shelly Hawkins
It's leg day! Yay! Get ready for another version of the Serious Strength Lower-Body Workout! This workout is all about your lower body! No cardio, no fluff, just serious strength. Learn the art of slow, heavy training for sculpting and shaping your legs and butt. With proper training and guidance, you can learn how lifting weights actually helps you shed fat and sculpt the muscles underneath, giving you a toned backside! Love it or hate it, everyone needs a great lower-body workout!
In this lower-body workout video, trainer Shelley Hawkins teaches you the proper form and movement every step of the way. By going slow and steady with heavier weights, you will feel the burn! You'll get everything from squats to lunges to deadlifts. Shelley will have you do approximately 12 reps of each exercise as you reach fatigue.
This heavy, slow, intentional strength workout gives you more time to focus on proper form to truly get the results you want. Shelley coaches you through the proper form and range of motion. Make sure you also check out our video Serious Strength Program—Lower Body for another great lower-body workout!
Level: Intermediate, Advanced
Equipment: Medium and heavy dumbbells, mat
Instructor: Shelley Hawkins
Popular Serious Strength videos
Explore videos by Shelly Hawkins