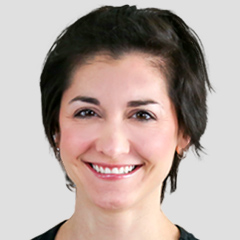 Burn & Build - Low Impact Cardio and Core
Leah Zahner
If you're looking for a big calorie burn but need low impact movement, this workout is for you! Welcome to our Build & Burn Low Impact Cardio Core. In just 30 minutes this low impact workout will give you a solid cardio burn plus some amazing core strength to tighten and tone your middle! Join trainer Leah Zahner while she leads you through simple yet effective low impact cardio drills followed by core strength moves that pack a punch with absolutely no crunches! Trainers Chris Freytag and Sam Cameranisi join in for the fun and provide great options and tips as needed.
After a short warm up to get your body ready, Leah will give you a simple but fun low impact move that lasts for 40 seconds allowing you to go at your own pace rather than trying to reach a specific number of reps. After 40 seconds is up, you get to catch your breath while Leah shows you the next move. After five fun low impact exercises you'll start all over and repeat the series 3 times. This is a great plan because you get a chance to learn the moves the first time, know and execute them better the second time, and really hit it hard the third time through! In the meantime, Chris will show you options and encourage you to always work at your own pace.
The second half of the workout is all about your core. But hold on- don't lay down yet! This is core strength that has you standing, sitting, planking and moving in ways that keep your heart rate up as well! Grab your weights and prepare for core strength that you will feel the next day! These moves work! Don't have 30 minutes? Break this up and do 15 minutes of cardio one day and 15 minutes of core the next! If you're looking for more great low impact and core work, check out our Low Impact Cardio Core Workout.
Explore videos by Leah Zahner