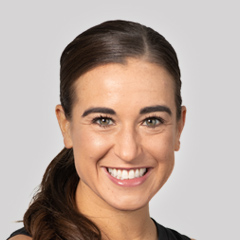 GOLD No Jumping Strength Workout 1
Sam Cameranesi
Join us for this Get Healthy U TV workout, exclusive to those with GOLD membership! If you're looking for a total body strength workout that fatigues each muscle group with absolutely NO JUMPING, then this workout is for you! Trainer Sam Cameranesi will take you through a total body 45-minute strength series, breaking down each segment by muscle group. Starting with the lower body, working into the shoulders, biceps, triceps, core and total body progressions she will hit every muscle group in the body.
There will be absolutely NO JUMPING in this workout, keeping it low impact on the joints. The goal of this workout is to bring the muscles to failure by lifting medium to heavy weights and focusing on form. Grab your dumbbells and get ready to burn the muscles while staying low impact!
Level: Intermediate, Advanced
Equipment: Medium and heavy dumbbells, mat
Instructor: Sam Cameranesi
In order to view the Live Class, be sure to visit this page while logged in to your GOLD member account. Want to stream this workout to your TV? Here is how to do it.
THIS EVENT IS ONLY AVAILABLE FOR GHUTV GOLD MEMBERS

Popular Live Class videos
Explore videos by Sam Cameranesi