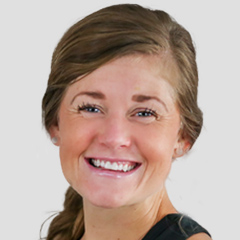 Move Total Body 2
Lindsey Bomgren
If you liked Move Total Body, Move Total Body 2 is the next workout for you! Lindsey Bomgren is back with another 20-minute pyramid workout routine that's going to tone you head-to-toe. You'll perform five new moves for 30 seconds at a time, working your way up the pyramid. All you'll need are a set of dumbbells and some water for this high-intensity workout.
Starting with jumping jacks, high knees, and butt kicks, Lindsey will lead you through a quick warm up to get you ready for this pyramid workout routine. You'll then move onto your first move: squat jumps, which are a plyometric move designed to get your heart pumping and build lower body strength. Next, it's onto walking push-ups to work your upper body. Lindsey will provide modifications for this move and the others, so that people of all fitness levels can participate. She will also ensure you have the proper form and alignment for each move in this pyramid workout routine so you can see maximum results.
Your third move is a half burpee with a bicep curl to overhead press. This powerhouse move works your total body, so get ready to sweat! Your fourth move will be a reverse lunge and chest fly; Lindsey will encourage you to pick a lighter set of dumbbells for this move, which gives both your lower and upper body a workout at the same time. Move number five will work your obliques as you pull and crunch those abs to sculpt a strong and sexy core. At this point you will have reached the hardest part of this pyramid workout routine – the top! It only gets easier from here! You'll work your way back down the pyramid, with Lindsey coaching you every step of the way.
Move Total Body II is a pyramid workout routine that builds strength and burn calories at the same time; give it a try to become stronger and healthier today!
All exercises you perform are your own responsibility and you perform them at your own risk. Always seek the advice of a physician or other qualified health provider before starting any physical exercise, fitness or wellness regiments of any kind.
Level: All Levels
Equipment: Light to Medium Dumbbells, Mat
Instructor: Lindsey Bomgrem
Popular All Videos videos
Explore videos by Lindsey Bomgren