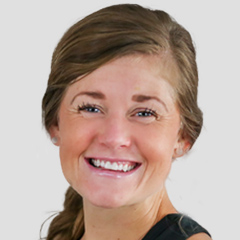 Barre Strong: Total Body Sculpt and Shred
Lindsey Bomgren
Are you ready to sculpt your body and tone everything from head to toe? This body sculpting workout will target all of your major muscles by combining traditional barre moves with strength training for an effective total body workout! Maybe you've tried strength training before and fell off the bandwagon quickly because lifting weights just wasn't for you! This body sculpting workout is a completely different way to approach toning those muscles and finding your own strength by using traditional barre moves. It's totally fun and it totally works! Get ready to firm your total body!
Come along for this 30-minute ride while GHU TV trainers Lindsay, Chris and Kate take you on a journey of sculpting your body from head to toe! This is a total body strength workout! You'll need some light hand weights, a small sponge ball, a chair to hold onto and a mat. Of course, you can always skip the fuss of equipment and go with just your own bodyweight and range of motion. Right from the start, Lindsay has you moving through a plie squat for your legs and a front raise for your shoulders. These multi-tasking moves not only work and tone your muscles but they get your heart rate up and help you shed the extra calories. Next up you'll try pressing hand weights with your triceps while squeezing the sponge ball with your inner thighs. Yikes! Plus you get short cardio-style bursts to help shred you from head to toe as well!
This body sculpting workout is different than anything else you've tried! You'll be amazed at how the barre-style moves combined with light hand weights can make your muscles burn so quickly! Plus, with the short bursts of cardio you'll know you have done a complete workout! We have so many more barre sculpt workouts for you to try, so check them out as well as all of our great GHUTV workouts!
Level: All Levels
Equipment: Light Dumbbels, Mini Ball, Chair, Mat
Instructor: Lindsey Bomgrem
Popular All Videos videos
Explore videos by Lindsey Bomgren