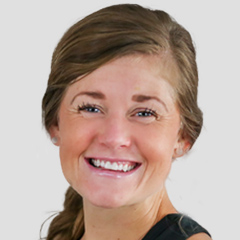 GOLD Glider Barre 2
Lindsey Bomgren
Join us for this Get Healthy U TV workout, exclusive to those with GOLD membership! Lindsey Bomgren will lead you through round 2 of Glider Barre! This is a low-impact workout with the added challenge of gliding discs (or hand towels on a hard-wood/floor surface or paper plates on carpet). This barre workout is sure to tone and tighten; pairing total body strength training using a set of light-to-medium dumbbells, with bursts of low-impact cardio. Adding the gliding discs (or towels or paper plates) will not only make each exercise more fluid, but also more challenging as muscle engagement is required throughout the full range of motion. This work is sure to challenge all levels, and you might even be able to clean your kitchen floor while you break a sweat!
Here are two great options for you to purchase gliding discs: SPRI Sliders or Elite Core Workout Exercise Sliders
Level: All levels
Equipment: Light to medium dumbbells (3-8lbs), gliding discs (you can sub in towels or paper plates)
Instructor: Lindsey Bomgren
In order to view the Live Class, be sure to visit this page while logged in to your GOLD member account. Want to stream this workout to your TV? Here is how to do it.
THIS EVENT IS ONLY AVAILABLE FOR GHUTV GOLD MEMBERS

Popular Live Class videos
Explore videos by Lindsey Bomgren