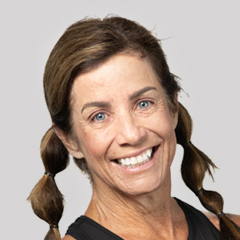 10-Minute Quick Barre
Shelly Hawkins
Join Shelley Hawkins and get your heart pumping and muscles burning with this quick 10-minute barre workout. Move through a series of barre inspired exercises like plies, leg lifts, lunges, planks, and a variety of arm movements.
Shelley will move to the beat of the music, but if you'd like to move at your own pace, you can do that as well. All you need is a light set of 2-5 lb dumbbells. Our trainers are using 3 lb weights. There will be very few breaks as you move from exercise to exercise. Your legs and arms will be shaking.
Barre is a great total body workout that sneaks up on you. It's graceful but powerful and your muscles will feel it. Get ready to tone and sculpt with this 10-minute quick barre workout. Tack this workout onto the end of a cardio or strength workout or use it as a stand-alone on days when you need a quick total body burn.
Level: All Levels
Equipment: Light dumbbells, mat
Instructor: Shelley Hawkins
Explore videos by Shelly Hawkins