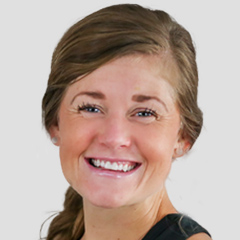 Barre Sculpt Exercise Program Sneak Peek
Lindsey Bomgren
If you're looking for a barre exercise program that will strengthen and lengthen your body while helping you burn calories, our Barre Sculpt Program is the one for you! Led by Lindsey Bomgren, fitness and Barre instructor, these inspired barre workouts blend ballet, Pilates, and targeted strength training to give you intense, total-body workouts that will tone your thighs, flatten your stomach, define your abs, and strengthen your arms. Each workout in this barre exercise program is 20-minutes long and ideal to do on its own or combined with other workouts. No formal dance training is necessary, either!
Start with Move Barre Cardio, which uses plyometric moves like squat jumps to burn calories and get your heart rate up. Blending high intensity interval training and isometric holds, this workout is equal parts cardio and strength training. For lean and strong legs, move on to our Move Barre Legs workout! It's a barre exercise program that firms your entire lower body—specifically the legs and glutes—through isolated moves like squats and lunges. Move Barre Sculpt, on the other hand, will work your entire body, firming everything from your abs and glutes to your arms and shoulders. Lastly, Move Barre Core is a targeted barre exercise program that will define your abs, specifically your low abs (tranverse abdominus) and obliques, giving your stomach a flatter appearance and strengthening your core muscles.
If you want to try a Barre-inspired workout but don't know where to start, our Barre Sculpt program is the one for you. We even have a barre fitness calendar that will tell you exactly which workouts to do each day to achieve that long and strong dancer's body we all covet. Build strength and burn calories with this barre exercise program!
All exercises you perform are your own responsibility and you perform them at your own risk. Always seek the advice of a physician or other qualified health provider before starting any physical exercise, fitness or wellness regiments of any kind.
Explore videos by Lindsey Bomgren