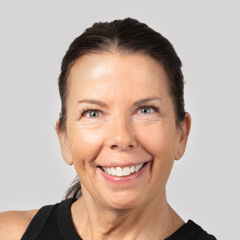 GOLD Yoga Tune-Up—Chest + Hip Opener
Patty Knudsen
Join us for this Get Healthy U TV workout, exclusive to those with GOLD membership! Another one of our Yoga Tune-Up workouts. This time, Trainer Patty Knudsen will focus in on your chest and hips to help bring relief to tight muscles. Whether they're tight from sitting all day, or over-exercising, or hunching over a computer, you'll feel better after this. Help unlock tight hips, open up the chest, lubricate the joints, and strengthen your muscles through a series of much-needed poses and stretches.
Level: All Levels
Equipment: Mat
Instructor: Patty Knudsen
In order to view the class, be sure to visit this page while logged in to your GOLD member account. Want to stream this workout to your TV? Here is how to do it.
THIS EVENT IS ONLY AVAILABLE FOR GHUTV GOLD MEMBERS

Popular GOLD Workouts videos
Explore videos by Patty Knudsen