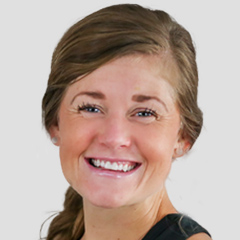 Move Barre Legs
Lindsey Bomgren
This 20-minute Move Barre Legs workout will help strengthen your lower body muscles and provide you with a longer, leaner appearance. Full of isometric movements and moves like leg lifts and plies, you'll burn out those legs and build strength before you know it! Dancers have used the barre method for years to sculpt and strengthen their legs, and now you can reap the benefits of these strategic movements to build a better lower body.
Your legs and buns house the largest muscles in your body, meaning you will be required to work harder and burn tons of calories along the way. In this barre workout, we start with a one-minute warm up to get your blood pumping and your muscles warm. Then you'll move directly to a plank series with leg lifts to tighten and sculpt both your core and your outer thighs. You'll experience pulsing plies and other moves such as arabesques and leg lifts that will leave your legs shaking in a good way! You'll do moves like chair squats, glute squeezes, and glute bridges to tighten and tone your backside as well. Lindsey will provide plenty of modification and encouragement along the way.
Throughout this workout, you'll perform moves that will leave your legs burning. By practicing small, repetitive movements, as well as big ranges of motion, you will create long, lean muscles and build a better lower body. You'll also practice isometric exercises that involve supporting weight without moving your muscles. The time your muscles spend under tension makes them stronger and develops key muscle fibers for endurance and balance.
We've got more barre workouts in this series, as well as a dynamic 28-day barre fitness routine to keep you moving and motivated!
All exercises you perform are your own responsibility and you perform them at your own risk. Always seek the advice of a physician or other qualified health provider before starting any physical exercise, fitness or wellness regiments of any kind.
Level: All Levels
Equipment: Light Dumbbells, Chair, Mat
Instructor: Lindsey Bomgrem
Popular All Videos videos
Explore videos by Lindsey Bomgren