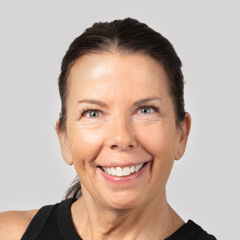 Feel Good Yoga Flow 1
Patty Knudsen
This 30-minute Feel Good Yoga Flow workout is literally to help you "feel so good." Trainer Patty Knudsen takes you through this relaxing flow and allows you to check in with your breath and feel the poses through your whole body. She does lots of joint opening and moves slowly through the poses to allow you to connect your mind and body.
The intention of this class is to help you reconnect & recharge both inside and out. It's a wonderful yoga class of all levels with its intention to help you feel better!
If you are looking for more mindful yoga classes, push play on our Mindful Yoga class. If you are ready to take your practice up a notch, check out our Yoga Sculpt series that incorporates light dumbbells.
Level: All Levels
Equipment: Mat
Instructor: Patty Knudsen
Popular Yoga/Flexibility videos
Explore videos by Patty Knudsen