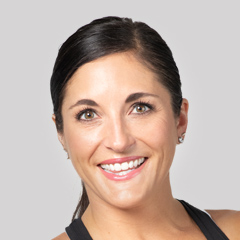 Ultimate Intervals 2
Tara Putz
If you liked Ultimate Intervals 1, you are going to love Ultimate Intervals 2. In this workout, we added on one more block—making it 45 minutes instead of 30 minutes. This bodyweight interval workout doesn't require any equipment and will challenge you with moves that work every muscle in your body! Interval workouts utilize intense bursts of activity followed by brief rest periods to get your heart pumping and burn calories. Trainer Tara Putz will take you through this powerful workout.
This bodyweight interval workout incorporates plyometric work, but modifications will be provided so you can still get an amazing workout if you want to stay low impact. We begin with a warm up that includes mobility moves and some basics like jumping jacks to get your heart rate elevated and warm up your joints and muscles. Tara will prep you for the workout ahead and encourage you to push yourself but also listen to your body.
There are four blocks of work in this bodyweight interval workout, with each one containing four exercises. You'll perform each exercise for 30 seconds, then get 30 seconds rest. You'll then repeat that same interval twice more, adding on a power minute of plyometrics before moving on to the next interval full of four new exercises.
The first block in this bodyweight interval workout will have you doing double squat jumps, squat jacks, walking pushups and burpees. Yippee! The second block includes side lunges, plank jacks, sit ups, and cross behind lunges. The last two blocks of work include more upper and lower body challenges. And don't forget that power minute of cardio between each interval. This is the definition of challenge and it's fun! (There will be low impact modifications shown for each exercise, so don't be scared off by the intensity.)
This bodyweight interval workout is definitely a total-body burner that will help you blast fat and get stronger at the same time using just your bodyweight. A bodyweight workout program is a great place to start when you want to lose weight and build muscle, or as a way to kick your calorie-burning into high gear!
Level: Intermediate, Advanced
Equipment: Bodyweight, Mat
Instructor: Tara Putz
Popular Cardio Strength videos
Explore videos by Tara Putz