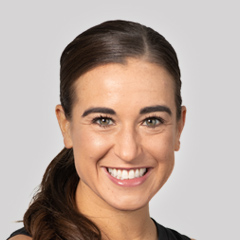 10-Minute Kickboxing
Sam Cameranesi
Only have 10 minutes to workout and want to get a good sweat in without using any equipment? This 10-Minute kickboxing workout is for you!
Whether you're traveling and don't have access to equipment, or you just want to get a good cardio workout done with just your own bodyweight, trainer Sam Cameranesi will lead you through this quick and invigorating workout. Sam will lead you through a very quick warm-up before diving into this cardio kickboxing workout. Whether you want high or low-impact, Sam will provide both modifications for each move so that no matter your fitness level you can get a great cardio workout done with little time.
You will punch, kick, jab, and shuffle your way through this 10-Minute kickboxing workout, so be ready to work up a sweat! Looking for other cardio workouts using just your bodyweight try this 10-Minute Power Walking Workout!
Popular All Videos videos
Explore videos by Sam Cameranesi