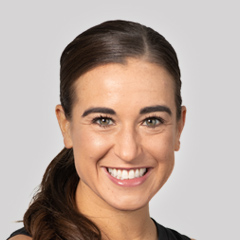 Calorie Sizzler 2
Sam Cameranesi
Calorie Sizzler 2.0 is here! This powerful routine is all about cardio—you'll be getting that heart rate up while using different muscle groups.
Trainer Sam Cam will take you through 8 drills, 1 minute each, with 30 seconds of rest in between.
Each one of the drills in this cardio bootcamp workout is 1 minute. Sam Cam will start with a low-impact version of the exercise, and then at 30 seconds in, will move into plyometrics. It's up to you if you want to come along for those heart-pumping plyometric sections—they're intended to get your heart rate up and push you out of your comfort zone. However, if you need to stay low-impact, you'll continue on with the first 30 seconds of the move and Chris Freytag will be demonstrating the modifications the entire workout.
Because this cardio bootcamp routine is all about getting your heart rate up, once you have the range of motion down, Sam Cam will encourage you to pick up the pace to really push yourself. But as always – pace is up to you! If you're looking for a fun and engaging cardio workout to burn calories and rev your metabolism, check out this Calorie Sizzler.
Looking for more bodyweight workouts? We have you covered. We've got a variety in our Premium Bodyweight Videos category. Also, check out our At-Home Cardio Workout Videos!
Level: All Levels
Equipment: Bodyweight
Instructor: Sam Cameranesi
Popular Cardio Strength videos
Explore videos by Sam Cameranesi