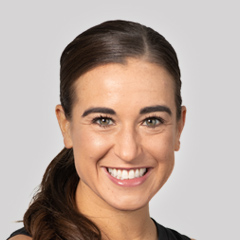 Chair Program - Chair Circuits
Sam Cameranesi
Welcome to this Chair Total Body Circuit Workout! This workout is meant to challenge you from head to toe, while staying seated and low impact in a chair. This is an excellent workout routine for any fitness level or age. For those of you just getting back into a workout routine or you're trying to stay active with an injury, this low impact workout is easy on the joints but still very effective in muscle strengthening and cardio training!
During this chair total body circuit workout you will be challenged to move at your own pace. Switching from strength blocks to cardio blocks, you will have the opportunity to pick up dumbbells to work on muscle building while ditching the dumbbells for our heart rate blocks. Take a look below to see the format of this total body chair circuit workout. And don't worry – your trainers will have you covered with the timing intervals, so all you have to do is follow along and have fun!
What to Expect in this Workout:
Strength Block 1: Back Focus
Cardio Block 1
Repeat x 2
Strength Block 2: Shoulder Focus
Cardio Block 2
Repeat x 2
Strength Block 3: Bicep/ Tricep Focus
Cardio Block 3
Repeat x 2
For those of you looking to challenge yourself and take this one step further, we challenge you to simply pick up heavier dumbbells. No matter what your fitness level, you can make this workout your own by taking modifications and slowing down when needed, or even doing this with no weights at all.
This awesome circuit-style workout gives you the opportunity to learn the exercises in block 1 and then once you repeat the circuit you will be able to move at your own pace and maximize your results. Not only that, but moving from strength to cardio blocks you will get everything in this single workout: cardio, strength and core!! Yes you heard that right, core even while sitting in a chair! In fact, we have a few other chair workouts that you will want to try to keep your body guessing while staying low impact! Looking for another chair total body workout, this Chair Conditioning workout is worth a try!
Level: Beginner
Equipment: Light to Medium Dumbbells, Chair
Instructor: Sam Cameranesi
Popular All Videos videos
Explore videos by Sam Cameranesi